5 Metal Movie Posters That Look Like High Art
You're definitely going to fan out over these gorgeous posters.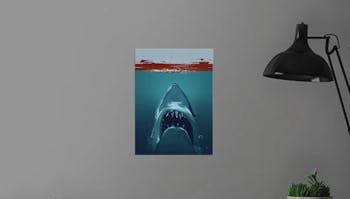 Displate
True movie buffs are a special breed of people. They are able to recall actors' names and roles at the drop of a hat, they are masters of analysis, and they are typically deeply creative people. Real fans of movies deeply identify with their favorite medium—often because the films they love speak who a large part of their personality. Adult fans are often faced with a choice when it comes to decor—while there is a massive temptation to plaster their favorite films all over the walls most of the time, movie posters aren't aesthetically aligned with home decor. But thanks to Displate, that has changed: These metallic movie poster are super high quality and totally cool-looking. These art pieces typically come in three sizes, so movie lovers can decide just how many they can fit on the walls. Here are a a few of our favorites.
Where we're going, we will definitely need this poster . For all those die-hard Back to the Future fans out there, this character metal poster is perfect. The colors are perfectly complementary with a lot of decor styles, and we love all the film elements squeezed into this singular poster. Displate has dozens of character options from many different movies, so building a collection of these is relatively easy.
If guests look twice, they might miss it. This gorgeous scene depicts an almost angelic Iron Man blasting into the clouds. At the bottom Avengers Endgame fans will notice a now-famous quote from the film, "I love you 3,000." This poster not only looks great in nearly any style home, it makes for a perfect anniversary or Valentine's gift for a special someone. After all, what better way to show a true fan you care?
Though this poster isn't subtle at all, it is super cool-looking. The motivational quote will look great behind ay bar area in the house, or would make a nice-looking reminder to hang next to the exercise bike. Either way, it's sure to inspire and accent a home.
Harry Potter fans will immediately recognize this sight. With a "Deathly Hallows" moon and a blend of whimsical colors, this poster looks so magical, you're going to expect it to move. The landscape include spires of important buildings in the series. The children's story is one of the most beloved out there, but this gorgeous poster is definitely adult apartment approved.
There is no mistaking this iconic JAWS poster for anything else. But removing the text makes it really striking—and the thick, acrylic style of painting in this piece is really unique. We alsolove how the blood red sky gives it a truly eerie feel.