Sex Toys Every Dude Should Know How to Use
Step up up your game in the bedroom for yourself and your partner with these essential toys.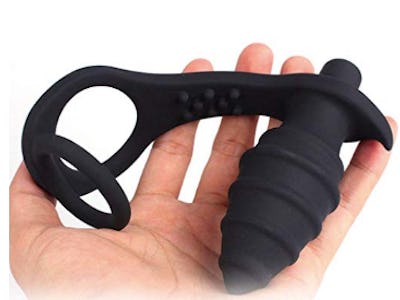 Amazon
Fellas, this may come as a shock to you, but, your penis isn't always enough. It really isn't a diss on you, per say, it's just that sex (especially for women) can be a complicated journey to pleasure. We aren't as easily prone to climax as you are. In the same turn, there is also a lot more sexual enjoyment out there that awaits you, too. Of course there is but so much a mere mortal body can do, and there is no shame in asking for a little help. The answer? Sex toys—toys that can enhance your partner's pleasure, your pleasure, and even help both at the same time. Knowing how to use these toys will absolutely change your sex game, and if your partner is down, they will absolutely appreciate you doing all you can to make it a better experience for all involved.
Let's start slow. This hand-dandy little wand is all for foreplay. Technically, you can use it to massage your partner's achy muscles, but if your S.O. has a clitoris, this tool is particularly useful for her. This wand is waterproof (bathtub sex, anyone?) and has over 20 vibration modes. If you're interested in using this for solitary play, prostate stimulation is achievable with this, too.
This simple sex toy is a game changer. The ring slips around the base of your shaft while the tip vibrates at several different pulsing streams to customize to your partner's pleasure. The ring is said to help you maintain an erection longer, as well!
If you're officially ready to get more adventurous, this multipurpose toy is for you. It comes with two silicone rings that go at the base of your shaft and the base of your testicles (it's stretchy, don't worry). Then, you insert the plug into your rear in a way that is is pushing against your prostate. Prostate stimulation can increase the intensity and enjoyment of an orgasm, and to take it even further, it vibrates too! This one is great with a partner or solo, so it's especially worth the investment.