3 Spoilers for 'Handmaid's Tale' Season 4 Based on Showrunner Quotes
June struck a blow to the heart of Gilead, and the consequences will be severe.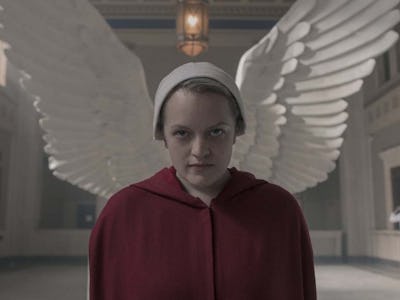 Sophie Giraud / Hulu
The Handmaid's Tale on Hulu has never been a particularly lighthearted affair, what with all the institutionalized oppression, ritual rapes and unsettling glimpses into the rise of a fascist state. But the Season 3 finale, 'Mayday,' wrapped up the show's third season on an unexpectedly optimistic note, hinting at a bold new direction ahead for the dystopian series as we head into Handmaid's Tale Season 4.
Be warned: spoilers ahead through the finale of The Handmaid's Tale Season 3.
"Mayday" sees June (Elisabeth Moss) successfully pulling off her risky, ambitious plan to move dozens of young women out of Gilead into Canada. Felled by a gunshot wound at a critical moment, she doesn't make it across the border herself. Instead, for the fourth time in three seasons, June chooses to remain in Gilead in service of a higher cause. Here are three key points the show needs to address in its next batch of episodes. (Season 4 has already been confirmed by Hulu, but does not yet have an official release date.)
3. June Goes Full Mockingjay
The Hunger Games books and films see Katniss Everdeen become the figurehead of a populist uprising against the elite rulers of Panem, symbolized among the underground resistance movement by an in-universe hybrid bird known as a Mockingjay. The Handmaid's Tale has been hinting at a similar direction for June, particularly in the Season 3 finale.
Dozens of her fellow Handmaids slip June a bar of soap as the day of the flight to Canada approaches, tacitly acknowledging her as their leader even if she doesn't seem to fully grasp it yet herself. Later, in the finale's closing moments, the Handmaids discover her wounded in the forest, hoist her up Khaleesi-style and spirit her to safety.
While it's not likely June will end up back at Commander Lawrence's (Bradley Whitford) house, it's unlikely she'll leave Gilead anytime soon. She won't cross the border without Hannah, her daughter from before the revolution, who lives with another family just an hour away. What's more, showrunner, Bruce Miller recently told Variety that June is driven by a desire for justice just as much as family ties.
"She has priorities other than her own personal survival at this stage. So it's not that she's decided she's going to die in Gilead, but if she dies in Gilead, it's OK," he explained.
In other words, don't expect to see June hanging out in Canada with Luke, Nichole and Moira (Samira Wiley) anytime soon. Instead, the first few episodes of Season 4 will likely focus on June's recovery and attempts to further the insurrection inside Gilead's borders, with Hannah likely to be used as bait to lure the renegade Handmaid out into the open.
2. The Canada Storyline Expands
June probably won't make it to Canada anytime soon, but viewers should expect to spend a fair bit of time there in the next season of The Handmaid's Tale, particularly given that Fred and Serena Waterford (Joseph Fiennes and Yvonne Strahovski), Moira, Rita (Amanda Brugel) and a whole heap of other characters are now beyond the borders of Gilead. This will allow the show to explore how other nations view the patriarchal regime and expand on the process of recovering from having lived under repressive violence.
That said, a lot depends on how much June is able to find out about what's going on up north.
"The show is all from June's point of view—all of it, including scenes with other people," Miller said in an interview with Bazaar. "Those are scenes where either she knows those people well enough to piece together what would have happened, or at some point afterwards, someone who was there told her what happened. Every single thing we see is something she either knows or would know, because she's telling us this story."
The higher-ups in Gilead probably won't know where June is at the beginning of Season 4, and may reasonably assume she was also aboard the plane with the escapees. Even so, those in power will presumably take drastic measures to prevent any further insurrections, further restricting women's freedom and access to information.
1. Serena Finally Gets Her Comeuppance
After her disappointing, if predictable, reconciliation with Fred midway through Season 3, we learn Serena's been playing her vile husband for a fool all along. As the couple crosses the Canadian border in Episode 11, he's arrested for human rights violations and war crimes. Turns out, Serena betrayed him for the chance to see "her daughter," Nichole, again.
Though granted immunity for crimes she committed "under duress," Serena's agreement with the International Criminal Court doesn't cover forcing Nick and June to have sex all the way back in Season 1, which resulted in the conception of Nichole.
"We vetted all of that stuff very clearly with the U.N. and made sure her deal wouldn't cover it," Miller told Variety. "A few years ago they added another category of crimes, which are sexual crimes. So now there are crimes against humanity — like genocide — and sexual crimes. And they've done it for exactly this reason: When they get somebody and they find out they've been committing all of these horrible atrocities, they have resources and a way to convict people of those crimes because they're in a different category. She has immunity against the crimes against humanity, for all of the things that she did on a government level, but not the others. She wasn't pushed into that by the regime, under penalty threat; it was just something she wanted."
With Rita having escaped to Canada, there's nothing to stop her from acting as a witness against both Fred and Serena. The former Martha to the Waterfords saw the couple at their worst and can offer detailed first-hand accounts of their criminal behavior. Sure, Rita has some Stockholm syndrome-inspired feels for Serena, but the risks she was willing to take in Season 3 suggest she's firmly on the side of justice.
The Handmaid's Tale Season 3 is available to stream in its entirety on Hulu.