4 Routers That Are Essential for a Better Gaming Experience
Here's what you need to dominate.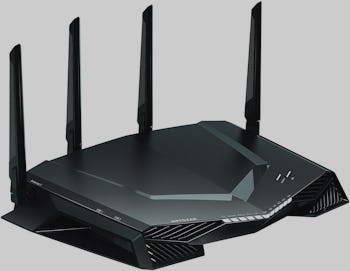 Amazon
What gamers value in a router is agility.
For those who are unaware, a router is a network tool that determines the best way to send data packets from one network to another. Essentially, routers are responsible for connecting your devices to WiFi networks by assigning each device its own IP address. This lets you send data packets (literally any information or commands) to the router, then your router sends it to the internet. Think of it as a middleman delivering your data to the right location.
For gamers, routers are essential. They can find, however, that their gaming experience may be slow or lagging if they are trying to play on a router while tons of other people are using it for other things. Thus, specific gaming routers were born. It prioritizes data package traffic for your game, excluding other data actions from interfering. For the serious gamer, this means a better connection and uninterrupted playing time. Let us take you through 4 of the top gaming routers to up your high score:
With ultra-fast WiFi speed (6000 Mbps to be precise), this ASUS router can handle the most. A generous bandwidth includes more usage options. Armed with four antennas and eight LAN ports, it wins in convenience factors as it can support more gamers at one time. Plus you can choose from AC or AX capacity, and from there multiple different models.
A popular choice, the NETGEAR Nighthawk is fully Gigabit wired with an 8-port Ethernet to connect all of your devices. It filters the number of relevant gaming devices on your WiFi and can be used for multi-user and virtual reality gaming experiences. With glitch-free streaming technology, it allows a high amount of traffic to be transferred, resulting in fast loading and download speeds. It comes with Quality of Service (QoS) support, integral to a high-functioning gaming router, and even has a lifetime warranty among its other numerous configurations. Add to cart!
Over 1300 reviewers give the NETGEAR Nighthawk Pro an average of 5.5 stars. Here's why: its software is designed to reduce ping hits to minimize lag time so you can play fast. It comes with four 1 Gigabit Ethernet ports and 1.7 GHz dual core processors,
Minimize ping and maximize performance with four 1 Gigabit Ethernet ports for lag-free, wired connectivity and 1.7 GHz dual core processor network efficiency. It has advanced QoS and prioritizes your gaming traffic to exclude other external devices from hopping on and slowing you down. You can improve your WiFi connectivity with its AC2600 dual band router that delivers fast speeds up to 2.6 Gbps. It is further equipped with a secure gaming VPN server capability and lets you monitor your IP addresses and network activity. It just can't fly.
This is the dark horse of our router list. With top-notch reviews and an affordable price point, meet the Archer C20. It comes with dual 5 GHz (433 Mbps) and 2.4 GHz (300 Mbps) bands for maximum device connection on your network. It delivers Wi-Fi speeds up to 733 Mbps and even has an app you can download to look at your network activity. With strong coverage available in WiFi connection and three antennas, this is a newcomer worth trying.