4 Best Wireless Gaming Keyboards Under $100
Get your game on with these sub $100 keyboard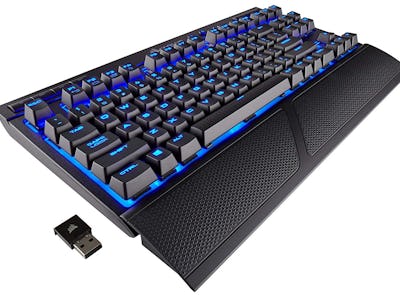 Amazon
The PC gaming industry offers a vast expanse of hardware and other peripherals that range from the most basic to the most sophisticated. Outside of the gaming rig, a very important piece of the PC gaming experience is the keyboard—something that's hardly in short supply. That said, as we move further into a more wireless world, some of the best gaming keyboards have kept their chain cords, leaving the wireless gaming keyboard market a bit more sparse than some would like to see.
But there definitely are an assortment of wireless gaming keyboard out there, and the lack of choice can indeed make it easier to actually make a decision. If you're in the market for a good wireless gaming keyboard, check out our list of four solid options for under $100.
Logitech makes fantastic PC peripherals, and its keyboards are no different. The G613 is a popular wireless mechanical keyboard that bring a host of features any gamer can get behind. Its Romer-G mechanical switches offer a 70 million click life, which is nice if you're playing some intensive gaming.
You can connect the G613 via both 2.4GHx wireless or Bluetooth, offering a flexibility for your connection types. Two AA batteries that are required to power the keyboard should last you up to 18 months, which is impressive.
Here's another popular wireless mechanical keyboard, but this time from Corsair, which makes both internal computer components like cooling fans, etc., but also makes a large assortment of peripherals, like mice and keyboards. The K63 has a lot to boast about, including an aircraft-grade anodized brushed aluminum frame and per key dynamic multi-colored RGB backlighting, utilizing the Corsair iCUE software. The lighting effects, when combined with other compatible Corsair peripherals, can be synchronized across your entire gaming system.
While technically not defined as an actual gaming keyboard, the Logitech K350 is a spacious, wave-shaped laptop that should provide a good experience for either typing or gaming. It's a bit no-frills on the feature front, but the 102 key layout offers up standard things like media controls, programmable F keys, and comes with a cushioned palm rest.
While it may not be as appealing for serious gamers as the first two keyboard on this list, its price point will certainly will be.
Looking for an ultra-cheap wireless gaming keyboard that's spacious and offers backlighting? Then the KLIM wireless gaming keyboard may be just for you. While it looks to be a knockoff of a Corsair keyboard, it's sub $50 price tag should put you at ease—it's a smaller investment than any other keyboard on this list. How'd they get cheap? Well, it's a non-mechanical keyboard for one, and the LED backlighting can be turned on or off—that's it. There's no fancy software to customize lighting effects. Still, with nearly 200 reviews and a 4.4 star rating, this keyboard is doing something right.