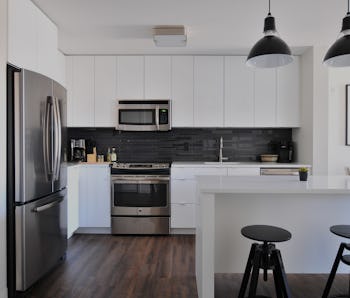 Innovation
The Best Smart Fridge for Your Connected Home
As the world gets smarter, your home--and your kitchen--can, too.
Unsplash / Naomi Hébert
Maybe it started by receiving the gift of Amazon Alexa or Google Home Assistant. Maybe from there, you got a smart home thermometer. And after that you got on the smart outlet craze and ever since you've been upgrading every part of your home to the smartest gadget on the market. Maybe you already have a remote control crock pot. Maybe you've splurged and gotten yourself a meat thermometer that sends you push notifications while your oven does the hard work. Maybe you've even started learning how to cook with a sous vide and you've gotten used to a certain level of connectivity in your home. But have you gone so far to get a smart fridge?
If you haven't, you need to. Any fridge related problem you've had in the past—including but not limited to your calendar that just won't stay where you want it to—is solved with the addition of a smart fridge to your smart home. Look no further than Samsung's 3-Door Family Hub Smart Refrigerator. Imagine a world in which your fridge works with you to keep your food the freshest, your family the most organized and your life as stress free as possible.
This amazing smart fridge pairs with Samsung's Family Hub app to sync with your smartphone—and anyone else in your family who has the app—so that your fridge's built-in screen is a one-stop shop for checking everyone's calendars, answering calls while you're cooking and displaying your favorite photos for anyone to see. Not only that but if you or your partner are unexpectedly working late or have a last minute grocery list addition, you can even send photos and notes to your fridge so that they're displayed somewhere everyone will see them.
But it doesn't stop there. The Family Hub app works with your Family Hub fridge to create and share shopping lists as well as establish meal plans based off of the food you currently have in your fridge. Sounds great? There's more. You can even input your food's expiration dates so that your grocery list and meal plans are automatically updated to leave you with the freshest food possible. Not only that, but the Cool Select Pantry™ Drawer feature allows you to select the optiminal temperature for your selected food, including deli meats and cheeses, fresh fruits and vegetables and well as chilled options like fresh fish and steaks.
The features don't end there. With Bixby Voice 2.0, you can use the sound of your voice to control and recalibrate your fridge's settings and temperature at any time to be perfectly tailored to your needs. And if you're on vacation, or at work, or away from the house for whatever reason, but want to get a handle on what you still have a home for the week's meals, you can literally check on the contents of your fridge from anywhere you have WiFi access, thanks to your fridge's 3 built in cameras and high efficiency lighting for easy viewing anywhere. Don't like what's in the fridge? You can even access your smartphone's apps and order a quick take out meal from GrubHub—all from your fridge's built-in display. From there, you can pair your fridge with all the existing smart technology in your home so that you can even check the door from your kitchen when the door bell rings on expectedly.
While all the smart features are really what make this fridge shine, features that aren't technology enabled still give this fridge room to shine. The 2 french doors, the separate freezer compartment with independent temperature controls and up to 24.2 cubic feet of space make this fridge stand out against all the competition. The adjustable shelves are all you need to reconfigure your set up at any time to accommodate a cake, a large catering order or any cleaning kick.
So go ahead. Get yourself the smart appliance to end all smart appliances. The Samsung Family Hub Fridge is taking the future to the next level and you can either get on the ride or stay in the past.