Ignacio Anaya García: Necessity Was the Mother of Invention ... For Nachos
The waiter helped spark a new era in snack tables.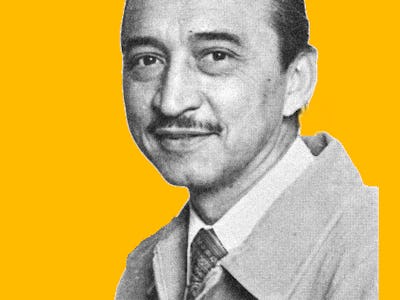 Inverse
Google celebrated the life of Ignacio Anaya García Thursday, the Mexican food inventor perhaps better known by his name's abbreviation: nacho.
García, born on this day in 1895, is credited with inventing the tasty dish that's become a mainstay of American snack tables. He was working at Club Victoria, a restaurant located in Piedras Negras, Coahuila, when one day in 1943 a group of military wives entered. The wives came across the border from the Fort Duncan Air Base near Eagle Pass, Texas, demanding something to eat. Unable to find a chef, García improvized the dish and served it to the happy customers.
That much is certain. But for such a wildly successful snack food, the finer details are less clear. Local news outlet Vanguardia notes that there is a dispute over whether six wives entered or 12, whether they asked to eat or whether they wanted a snack with some beer, or even whether there were no chefs around because it was 1 p.m. in the early afternoon or because the restaurant was about to close.
His son, Anaya Jr., recounted their creation to the Sun Sentinel in 2002:
My father was maitre d' and he said 'Let me go quick and fix something for you.' He went into the kitchen, picked up tostados, grated some cheese on them — Wisconsin cheese, the round one — and put them under the salamander (a broiler that quickly browns foods). He pulled them out after a couple minutes, all melted, and put on a slice of jalapeno.
The dish was declared Nachos especiales. Who by, nobody's quite sure — Vanguardia states some people say the wives bestowed the name in honor of the humble García, while others say the proud García came up with the name himself.
The restaurant added the dish to its roster, and as the story goes, it spread like wildfire. García's original recipe was immortalized in the 1954 book St Anne's Cookbook, which also recounts its origin tale.
Its creation story remained relatively obscure in the decades that followed. American library researcher Adriana P. Orr recounted for OED News how, in 1988, she was tasked with tracking down the etymology of nacho for the Oxford English Dictionary. She struggled to work out how the foodstuff got its name, until a young Mexican woman working in the Hispanic Division of the Library of Congress overheard her plight and explained how it's a common abbreviation of the name Ignacio.
García went on to work at the restaurant Moderno in Piedras Negras, and in 1960 opened up his own Nachos restaurant in the same town. His son looked into patenting the dish that same year, but as it had been in the public domain for 17 years, there was little to be done. García was not particularly bothered about patents, reportedly describing it as "just a snack to keep my customers happy and well-fed…like any other border dish."
The inventor passed away in 1975, but his legacy lives on. His son works as one of the judges for the International Nacho Festival. The festival is hosted in its origin town by Adalberto Peña, who founded the event in 1994. The festival has played host to the world's largest nacho, which used 150 pounds of dough, 25 pounds of jalapeño peppers and 130 pounds of Wisconsin cheese.
Some may dispute over the best toppings and techniques, but one thing's for sure: with his quick fix, García left a lot of hungry people satisfied.