These Pitchers Will Help You Remember to Drink More Water.
We should all be drinking more water.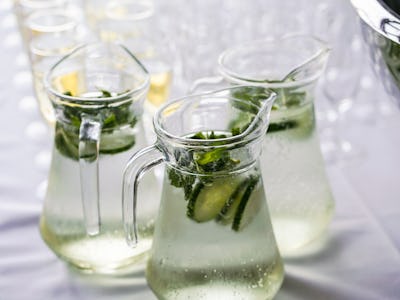 Unsplash / Yomex Owo
Most of us know that staying hydrated with healthy drinks is the way to go. And one of the best ways to do this is by drinking water. But let's face it, water is boring. Still, there's evidence that increasing your water intake can do everything from reducing headaches to improving your complexion, hair, and nails. So, there's a good reason to guzzle that H2O. But which pitcher should you choose? Don't worry, we've scoured Amazon and discovered these top-rated finds.
Between stories on contaminated water sources and aging municipal pipes, you have every reason to think twice about drinking unfiltered water from the tap. Brita is a name that's synonymous with clean water, and that's because their filters are known to trap and remove some of the most common contaminants found in water. Their five-cup filter pitcher is designed to be space-efficient while also being easy to refill and replace the filter. The BPA-free pitcher comes with a carbon filter (also BPA-free) that's ready for use. The brand promises that their filters will help to remove and reduce the levels of cadmium, zinc, copper, chlorine, and mercury in your water. A built-in filter change reminder also means that you won't forget when it's time to be replaced.
Aquagear's biggest promise is that they filter out 2000% more contaminants than the standard Brita filter. This includes lead, fluoride, chromium 6, chloramines, mercury, and chlorine. Their five-stage filtration system ensures that healthy minerals stay in your water. The BPA-free pitcher is made from 100% recycled materials and is also certified vegan. The brand proudly promotes that their filters were tested in Flint, Michigan and were effective in reducing lead levels in the water tested. Their filters feature triple capacity, meaning that they last much longer than other standard brands.
Water filtration can still be stylish. If one of your biggest complaints is that standard water filter pitchers look ugly or clunky, Soma is here to elevate your filtration game. The Soma 10-Cup Water Filter Pitcher holds 80 ounces of filtered water, is designed from shatterproof BPA-free plastic, and features a wooden handle for a stylish element. This is a pitcher that you'll want to leave on your table during the next dinner party. The Soma filter is made from plant-based materials but is still strong enough to remove heavy metals such as mercury, as well as other common contaminants like chlorine.
Are you familiar with alkaline water? The idea behind it is that it's specially treated to better work with your body and bring your pH level to within a healthier range. While the verdict is still out on whether or not alkaline water is really beneficial, if you're into that thing, this pitcher is for you. The Ehm Ultra Premium pitcher is designed with a filter that ionizes your water as it cleans it to help create alkalinity that's easier for your body to absorb. The pitcher holds up to three and a half liters (roughly 118 ounces) of water. And don't worry, the filter also removes harmful contaminants from your water such as chlorine and heavy metals.
If you're focusing on upping your hydration to the max, then you're going to need a pitcher with a large capacity. The ZeroWater 23 Cup Water Filter Pitcher does just that by acting as a large dispenser that can be stored in your fridge. But the slim design means that it won't take up a lot of space. The five-stage filter is rated to remove 99.6% of dissolved solids commonly found in tap water and is NSF-certified to reduce lead and heavy metals. Also, the ZeroWater filters are compatible with other brands of filter pitchers. The pitcher is made of BPA-free plastic and is recommended for handwashing.