Save Money With One of These Cordless Waterflossers
Cordless water flossers are easy on your wallet in more ways than one.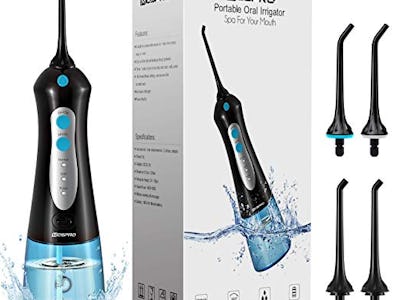 amazon
Any dentist will tell you that water flossers are the best way to maintain healthy teeth and gums. While regular flossing is always encouraged water flossers will earn you a gold star. Water flossers use pressurized water to get deep into the spaces between your teeth where food and bacteria like to hang out. And when these guys are allowed to stay too long at the party this could spell disaster for you and your wallet. Water flossers could be the real key to walking out of your dentist's office with a smile. So now that you're on the hunt for the best cordless water flosser here are a few picks to get you started.
Waterpik Cordless Water Flosser
When it comes to water flossers I'm not sure you can get a better endorsement than the American Dental Association. The Waterpik Cordless has electronic pressure control and 3 settings for a customized clean. In laymen's terms that means 99% plaque is removed with regular use. The Waterpik water flosser is ideal for anyone with braces, crowns, or dental implants, as the pressurized water gets into places you just can't with regular floss.
The Mospro features 3 adjustable modes for you to choose based on your teeth and gum sensitivity. With 4 interchangeable nozzles that also rotate a full 360 degrees you never have to worry about getting into those hard to reach places. The Mospro is easy to clean, easy to fill and compact so your oral hygiene doesn't take a vacation when you do.
Zerhunt Cordless Water Flosser
The Zerhunt water flosser has three deep clean modes taking your mouth to next-level clean. The waterproof design makes it safe to use in the shower and the generous water reservoir allows for 75 seconds of continuous flossing. The Zerhunt water flosser is a solid choice for dental implants and orthodontics because they're powerful enough to get deep into spots that string floss can miss. The gum massage option is just another feature you'll want to keep your smile looking perfect.
Nicefeel Cordless Water Flosser
Nicefeel cordless Flosser has 3-speed options normal, soft and pulse and an extra-large tank for uninterrupted flossing. Four jets and a 360-degree rotating nozzle all deliver a deeper clean, particularly if you're dealing with braces or periodontitis. The Nicefeel Cordless Flosser is rechargeable and has a memory function to retain your favorite settings.