5 Best Streaming Cameras for Twitch and Mixer
These streaming cameras will get you picture perfect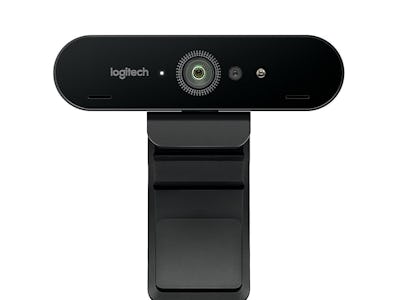 Amazon
Video streaming is becoming an increasingly popular hobby, and so for some, occupation. Whether you're streaming video games or live vlogging in general, a solid camera will be the 2nd star of the show — you being the obvious first. But how do you choose from the countless webcams out there that all promise the best picture quality? Not to worry, as we're going to show you 5 of the best webcams for streaming on services like Twitch and Mixer below.
If you're looking to stream video in 4K, your options are limited, but if it has to be done, the Logitech Brio is the way to go. Logitech commands a hefty pricetag, but since there aren't many (any) other options on the market available, or at least worthwhile, it can.
In addition to 4K (and HDR) streaming and recording, other features in the Brio include RoomLight3 light adjusting, USB 2.0 and 3.0 support (Types A & C), 5X HD zoom, and adjustable field of view from 65/78/90 degrees.
If you're not looking to spend a ton of money on multiple pieces of equipment for your stream, you can double up with some of them if you opt for the Razer Kiyo. This webcam can stream and record in 1080p at 30FPS or 720p at 60FPS, which should satisfy most people. It also comes with enhanced low-light capabilities and highly customizable effects, that's to Razer's software that you can adjust on your computer.
The Kiyo's standout feature is the built-in ring light that surrounds the camera. It can even be adjusted by rotating the bezel. It's Kelvin rating is 5600k, bringing you an even daylight-balanced brightness at all times.
If you're looking to spend under $100 for a webcam that's reliable and capable, the Logitech C922x Pro Stream Webcam could be just what you need. It comes with your standard affair of features, including 1080p at 30FPS and 720p at 60FPS, two-built in mics if you don't have your own, and autofocus. While it will be fine for most people, the viewing angle for the C922x is fixed at 78 degrees.
Also included with the C922x Pro is a popular feature used by many streamers: background removal, allowing you and only you to show up in your stream if you so want.
Another solid webcam option from Logitech is the C930e. While it doesn't differ much from the offering above, the Skype-certified webcam is improved in a couple of ways that may make it worth it for some.
1080/30 and 720/60 are present here, along with H.264 encoding, 4X zoom, and compatible with other, non-streaming services like Microsoft Lync. The C9303 bests the C922x by including a wider, 90-degree extended view. Now, whether or not that justifies the price difference will be up to you.
If you're sick of hearing about Logitech webcams, sorry, but here's another one. The Logitech HD Pro Webcam C920 basically needs to be on this list, given that it's so highly reviewed. With over 10,000 reviews and a 4.4 rating, this is probably all the webcam you need.
Capable of streaming and recording in 1080 and 720p at 30FPS, with no 60FPS option for either resolution, the C920 doesn't boast the highest of specs, but it's also the cheapest on this list. Still, if you're looking to spend around $50 for a more than serviceable webcam, you really can't go wrong here.