5 Best Smart Light Switches for Your Connected Home
Want groovy lighting? It starts with a smart light switch.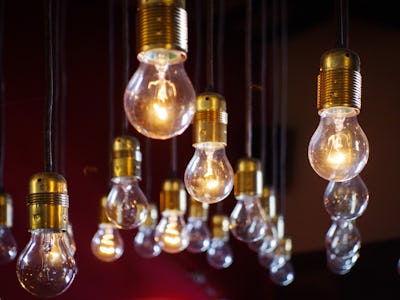 Unsplash / Diz Play
Finally, the Austin Powers vision of life that includes crazy lighting and sexy home automation is upon us. You have a voice assistant. You have invested in some smart lighting fixtures. You are ready for the automation to begin!
It starts with the not-so-sexy but absolutely necessary light switch. This is one of the easiest home-upgrade projects you can take on. And it makes a huge impact.
The way your light switches look and operate are a touch point in your house. They are place where humans constantly interact. So it's a great place to focus your upgrade efforts.
Here are a handful of light switches that will move your home from standard America to Austin Powers meets Star Trek.
Go!
Maybe you think you can handle the wiring to install a dimmable light switch, let alone a smart one. Well this one is wireless. So you can stick it anywhere and you don't have to do any wiring.
Stick it to your bedside table, to the kitchen wall, next to your favorite chair, or wherever you want to be able to reach out and dim the lights. Set it on the coffee table, for that matter.
Then pair it with a Halo home lighting fixture using Bluetooth. Now you can dim that light from wherever you are.
Are you a fan of the Philips Hue ambient colored lighting system? This switch — and its remote — will let you control all of that groovy lighting you set up right from bed — or the couch.
You can just slide the remote to dial up the intensity of your lighting, dial it down, change the colors, create a different mood, or whatever lights you up.
You can also use it to create scenes on a schedule. Teach your lighting to slowly wake you up with a daylight scene. Have it calm you at the end of the day by dialing down the daylight and moving into sunset lighting. And how impressive would it be to have the romantic lighting suddenly appear at dinner or cocktail hour?
Smart Light Switch, Treatlife Wi-Fi Light Switch
Ready to go full nerd? This is your light switch. It works with Alexa, Google Home, and IFTT. You can schedule your lights. You can turn lights on with your voice. You can set up scenarios that include turning the lights on. (For example, at 6 pm, when you typically get home from work, you could dial up the air conditioning, turn on some music, turn on the lights, and check to make sure you closed the garage door.
If you dream of living in a house that waits on you hand and foot like the computer-operated Enterprise from Star Trek, installing this is one step closer.
If comes with complete wiring instructions. So if learning to wire a light switch is on your bucket list, it will help you tick that off.
Many light switches work by connecting to a hub. Then you manage them through that hub. Not so with this Leviton. It's a bit spendy but that's because it has all the features built in.
Connect it to your phone and manage your lights from there. Or connect it to your Amazon Echo or Google Home and talk to it through your personal AI.
You can set up schedules using your phone. And those schedules are stored in the device so you get no trouble-shooting surprises.
This is a high-end switch. You will be challenged to take advantage of everything it can do.