Dressing Like a Local Has Never Been Easier Thanks to Hometown Apparel
Hometown Apparel provides custom t-shirts & apparel for 31,500 American hometowns.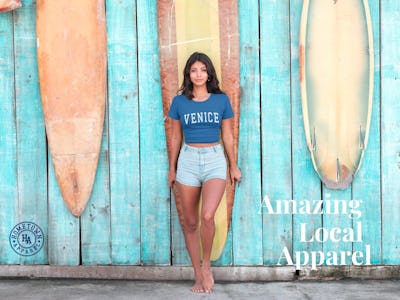 Hometown Apparel 
No matter where you're from, hopefully your sense of hometown pride hasn't been completely extinguished. But unless you happen to call some massive metropolitan area home, the pickings when it comes to local t-shirts and other kinds of apparel can be a bit slim. Enter Hometown Apparel, which carries a wide variety of tees, tanks, v-necks, long sleeves, and kids' apparel with graphics that represent your hometown - even if you live in the middle of nowhere.
Don't believe me? Head over to Hometown Apparel's site now and enter in a town. Go ahead! Pick the smallest town you've ever been to. Chances are, you'll find a whole array of graphic tees and other items repping that locality just as if it were a place with more than one traffic light (or stop sign).
And it's not just t-shirts. Hometown Apparel also boasts hats, hoodies, gear, racerbacks, sweatshirts, and more. You can even get the little one in your life's hometown pride started early with their line of local baby onesies.
Hometown Apparel started in 2018, with a mission to provide every hometown in America with the kind of custom graphic apparel that the smaller towns don't usually have. Now, more than 31,500 villages, towns, and cities are represented by the store's online stock, all made from quality materials which are printed in the United States.
Affordability is also key, with low prices on all products, even if they're effectively one of a kind! Then there's Hometown Apparel's shipping policy, which lets you get your custom apparel order for free as long as you order two or more items. But for the next couple weeks, until August 17th, they're running a promotion where all* orders ship absolutely free.
Hometown Apparel orders take from between 7-14 days to be delivered, owing to the fact that each item is custom printed. Hometown Apparel also has a robust, friendly customer support system, with support tickets answered by real people within one business day, and on business days usually within 1-3 hours.
So head over to Hometown Apparel now, and find the perfect apparel for you and everyone else who grew up in your hometown, no matter how small or obscure.