These 5 Air Purifiers Have the Best Reviews
If your allergies--or you're tired of that lingering smell--it's time to get an air purifier.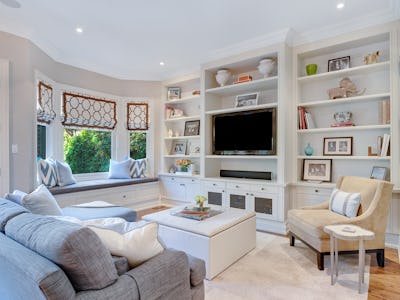 Unsplash / André François McKenzie
Is the air in your home stale? Or maybe you struggle with allergies or asthma and want to make sure that the air in your home is free from triggers. Whatever your reasons, air purifiers are a great way to literally clean up the air and improve your indoor air quality. But with so many options on the market, how do you know which one to choose? We've done the research and these are the top five air purifiers on Amazon.
The air in your home or office can be full of impurities ranging from germs to allergens, dust mites and a host of other things you don't want to think about. The Germ Guardian promises to kill up to 99.7% of the pollutants in your air. The upright purifier features three-speed settings, with an ultra-quiet option that can also double as a white noise machine to help you sleep. The Energy Star certified appliance also comes with a UV-C light that helps to kill common germs such as influenza, staph, and rhinovirus.
Pure Enrichment's HEPA air purifier offers similar features as those described with other purifiers listed in this article. But this particular model promises a quiet experience. Per their details, the Pure Enrichment air purifier has been recorded at a noise level as low as 30 decibels, the equivalent of being slightly louder than a whisper. Additionally, this purifier comes with an automatic timer allowing you to set it and be confident that it will shut off in two, four or eight hours. Pure Enrichment's air purifier comes with a five-year warranty and live customer support that's available seven days a week.
Levoit is probably one of the most popular air purifier brands on Amazon, with most of their product offerings receiving four or more stars. This specific model also includes a HEPA filter and provides many of the same features as the other brands: odor elimination, killing germs, removing particles as small as 0.3 microns from the air, and quiet operation. But what makes the Levoit purifier different is that it has a smart sensor setting. This means that based on the real-time air quality of the room, the purifier can automatically adjust to one of the three speeds to actively correct any drops in air quality. Likewise, the Levoit model is also a quiet machine, running at noise levels as low as 27 decibels.
The Winix air purifier also comes standard with a smart sensor that automatically adjusts the speed to effectively clean the air. While it doesn't feature the UV-C light to kill germs, it does have a washable filter that can help to extend the life of the purifier. This model also has a sleep mode that automatically activates after detecting the level of ambient light in a room. It adjusts the fan speed for a quiet operation and lowers the LED lights on the operating panel to avoid interrupting your sleep.
The Koios air purifier also offers many of the same features as the other purifiers listed here, but its unique design gives it an interesting feature. The 360-degree design means that air intake occurs "in the round" for more efficient air purification. Koios boasts their easy to operate design and simple setup process thanks to the one-button control panel. One button allows you to turn the purifier on and off as well as adjust the air speed. Likewise, the compact design means that this purifier won't take up much space. And the built-in blue perimeter light can also serve as a night light.