Upgrade Your Health While Doing Less Work With These Electric Toothbrushes
Get a healthy and beautiful smile with a high-tech toothbrush.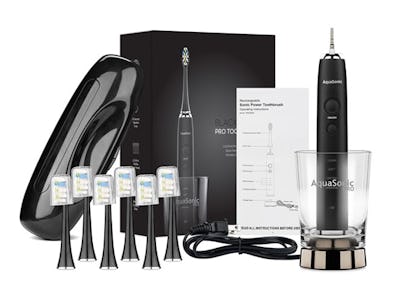 StackCommerce
The best dental care is preventative, and so you need to have a high-quality toothbrush to avoid an expensive visit to the dentist's office. Why spend thousands fixing your teeth when you can have healthy pearly whites by using a state-of-the-art toothbrush? These 4 electric toothbrushes will keep your mouth and teeth cleaner and fresher, and they're all on sale today.
The Aquasonic PRO Whitening Toothbrush is a perfect all-around teeth cleaning setup that's a serious upgrade for most people. This kit comes with an ultrasonic toothbrush, travel case, wireless charging glass and 6 adaptive brush heads. Blast away plaque with a brush that does 40,000 vibrations per minute and features four working modes for a complete cleaning. Best of all, it's a steal of a deal available for $54.99 — that's 45% off the regular price.
This premium sonic toothbrush not only cleans and polishes teeth for a whiter and healthier smile, it also includes a UV sanitizing base to keep your brush energized and clean every time you use it. The Platinum Sonic Toothbrush also has a two-minute smart auto timer so you can hit the dentist-recommended brushing time with ease. Right now it's on sale for 80% off so you can get the Platinum Sonic Toothbrush & UV Sanitizing Charging Base With 2 Bonus Brush Heads for just $49.99.
A normal manual toothbrush will only do about 300 strokes per minute, depending on the user. This high-powered and versatile sonic toothbrush does 40,000 brush strokes per minute — over 100x more cleaning power. Elements Sonic Toothbrush comes with four brushing modes, a built-in timer, UV sanitizing charger base, and an extra-long battery life so you can use it for up to two weeks of regular brushing on a single charge. It's on sale for just $69.95 — that's 86% off the normal price of $500!
Clean your teeth the smart way with this MySonic toothbrush set. It includes five optimal modes; the strongest is designed to eliminate stubborn plaque and stains, and the gentle mode tenderly cleans sensitive gums. You can also improve the gloss of the tooth surface with the teeth whitening mode. The MySonic toothbrush set is $34.99 and comes with a charging stand and three extra brush heads.