These Are the Best Wireless Earbuds for Under $50
Snag some truly awesome wireless earbuds for a steal.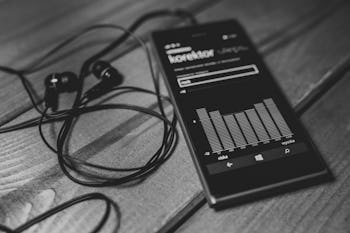 Pexels
Sometimes you need a new pair of wireless earbuds, but your wallet doesn't exactly agree with you. But that's fine – you don't need to drop cash on AirPods or PowerBeats. You can get all kinda of different wireless earbuds on Amazon without having to resort to spending hundreds of dollars a pop. Sure, you probably won't be getting the name brands you know and recognize, but these products come with plenty of reviews to attest to their quality.
So whether you're just looking for something new or just want to replace the pair you already have, check out some of these great options the next time you find yourself shopping for headphones. Who knows? You may end up finding something better than what the big brands offer.
The SoundPEATS earbuds come with Bluetooth 5.0, truly wireless connectivity, and automatic syncing to your favorite device. They also come packed in a sleek carrying case to keep them clean and tidy. You can use one earbud at a time by removing only one from the case if you want to keep one ear free – or you can share with a friend so you can experience the same media! With around 15 hours of total standby battery and 3.5 hours of playtime, you'll have time to take the music with you wherever you go.
These earbuds are one of the cheapest sets out there, and they also happen to be one of the coolest-looking. They've gotten a fresh 2019 update, and rock a powerful 3350mAh charging case, which you can also use as a power bank to charge all your other devices via USB port. It'll also get you about 3.5 hours worth of playtime so you'll be rocking as long as you want. The earbuds are water-resistant and sweat proof, connect and pair instantaneously, and just $30. What more could you want?
Want a pair of earbuds that look high-tech? These should fit the bill just fine. They come in two colors (black and white), feature Bluetooth 5.0 capabilities, and offer excellent sound, with an 8mm large speaker driver. You can even charge on the go with a charging box to ensure they're always ready to go. You can wear them while you exercise, too, as they're water-resistant. They can last over 3.5 hours of playtime from just one charge and can get up to 9 hours on standby from a single charge. If you want to try wireless charging, the case is capable of offering that, too.
Hate fiddling around with pairing your favorite earbuds and just want to get down to business? This Pasonomi pair includes one-step pairing tech that will sync as soon as you take them out of the case. In fact, in seconds they'll appear on your smartphone and they'll be ready for you to enjoy your music from. What's more, the case features a built-in 2200 mAh battery that will let you recharge the earbuds multiple times, and that means you'll get around 3-4 hours of playback and 60 hours of standby. Plus, they're sweat-resistant if you want them to be your new replacement exercise pair.