This Device Lets You Play With Your Pet Even While You're on Vacation
You'll even be able to help your pet get some exercise.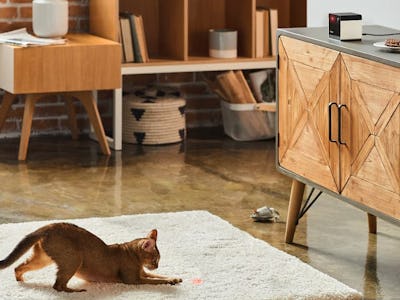 pet cube
It's always hard to leave your pet at home, whether it's for the day while you're at work, or you're away on vacation for a few days. Of course, having a pet is not only about making sure the basics are taken care of, such as making sure your pet is fed everyday has water and can get outside. It's also about fun.
Pet Cube is a company with the perfect solution for you to be able to check in on your pet at home, and even play with them those times you are away. The Pet Cube Play 2 is a box with a smart HD pet camera that offers a 180 degree view, so you'll be able to keep an eye on your pet, make sure she is okay and also say hi. Yes, the Pet Cube also comes with the capability to speak to, and hear your pet through a built in two-way microphone. You'll be able to converse with your pet when you miss them or either one of you is feeling lonely.
Another great feature is the interactive laser toy. You'll be able to play with your pet from afar. This is also a great way to make sure they get enough exercise through a fun game. The camera also comes equip with night vision, so you don't have to worry about only being able to keep an eye during the day.
Here's another really impressive capability: You'll be alerted in real time about potentially dangerous events, with the Pet Cube's audio recognition which will alert you when there's something you need to pay attention to, like meowing and barking. It's also able to distinguish between people and pets, so you won't have to worry about getting too many notifications or false alarms.
There's nothing like the feeling reassured knowing that your pet is safe and sound, and Pet Cube lets you have that in a way that's almost too easy. It also comes with a 1 year warranty.