Men's Summer Shirts That Look Good All Year Round
Whether you're looking for a shirt that's comfortable, moisture-wicking, or wrinkle resistant, these are your picks.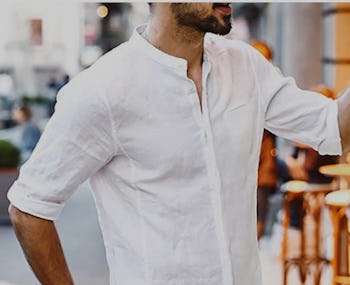 Amazon
It's hard to find shirts you love wearing that feel comfortable and aren't irritating, but when you do, you'll probably want to wear them all year round. The most comfortable shirts are often made from cotton, but depending on what you're looking for, you might want to try linen (which is ideal for summer because it's light, breathable, and naturally sweat-wicking) or a material that is moisture-wicking and wrinkle free. Here are a few options you'll want to wear in every season.
Why We Picked It You can't go wrong with a simple cotton shirt. This one is casual and comfortable, and we love a Henley—those three buttons at the top make this look a little tidier under a blazer or on its own than a regular t-shirt.
Why We Picked It At this price, you may not expect anything extraordinary, but this shirt is made from 100% cotton, which means it's going to be comfortable to wear all year round. It's machine washable (yay!) and comes in a wide variety of colors.
Why We Picked It This work-appropriate shirt is moisture-wicking, so you can wear it on hot sweaty summer days. It's also wrinkle-resistant, so you can put it on right out of the dryer—no ironing needed.
Why We Picked It We love this 3/4 sleeve shirt, which is elegant yet comfortable—a great fit for hanging at the beach or going to dinner at a cool restaurant. It's made from a blend of linen and cotton, which makes it ultra breathable, too.