These Minimalist Weather-Resistant Boots Might Be the Perfect Fall Footwear
Vivobarefoot Fulham Boots protect your feet without weighing them down.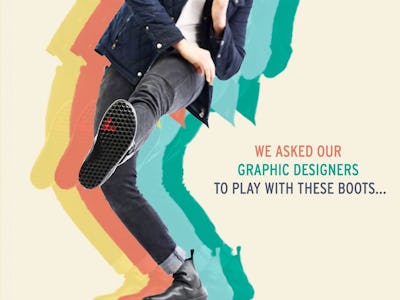 Betabrand.com
Right now it's still the middle of summer, and you've gotten used to the kind of light breathable footwear that make your dogs feel wild and free. You know you'll have to go back to wearing heavy, weather resistant footwear at some point, but you're not looking forward to it. But what if you didn't have to sentence your feet to six more months in a maximum security foot prison? What if you had durable boots that were so light and comfortable you barely knew they are there? Going back to boots probably wouldn't seem to bad, right? Well, we've got some boots we'd like you to meet. Behold the Fulham Boots from minimalist shoe specialists Vivobarefoot.
For those who might not be aware, the basic philosophy behind minimalist shoes, also known as barefoot shoes, is that less is more. Our feet evolved without shoes, the thinking goes, and they still work perfectly fine without extra padding, cushioning, or orthotics. The only reason we need footwear at all is to protect our feet from heat, cold, and cuts.
Of course, you don't have to subscribe to a full-fledged footwear philosophy to find minimalist shoes appearling. Whatever your opinion on the intrinsic goodness or badness of orthotics for the flourishing of human feet, one thing we call all agree on is that lighter shoes are better than heavier shoes. Nobody in the history of the human race has ever tried on a pair of shoes and said, "I just wish these were like one pound heavier."
This is particularly true when it comes to boots, which tend to be pretty cumbersome. That's what makes the Fulham Boots from Vivobarefoot so incredible. Whether you're card-carrying shoe minimalist, or you just want a pair of boots that don't feel like bricks strapped to your feet, these Fulham Boots are for everybody.
Designed by the minimalist experts at Vivobarefoot, these stylish pull-on boots come in black or…well, black. The exterior features an environmentally friendly buffalo-leather upper and an ultra-thin rubber outsole with a multi-terrain honeycomb grip, perfect for both city life as well as the occasional outdoor excursion. The interior features a sock-like lining and a removable thermal insole. Fulham Boots are rated as water resistant rather than water proof, seeing as how there's no closure system binding them to your ankles. But barring a monsoon, they will keep your feet warm and dry when the nasty weather hits.
Being true minimalist shoes, Vivobarefoot's Fulham Boots are actually foot-shaped, with no heel or added support or cushioning beyond the thermal insole. Instead, the flexible puncture-resistant sole protects your feet while providing maximum sensory feedback. In other words, these boots let your feet feel like feet.
But the best part about these boots? They won't break the bank. In fact, right now you can get them for less than $200, which is an absolute bargain.
Boots may be a necessity, but they don't have torture your feet. Vivobarefoot's Fulham Boots offer the perfect combination of function and style that will compliment any wardrobe. Take advantage of this stellar deal while you can.