McDonald's Will Offer All-Day Breakfast Starting Oct. 6, Nation Rejoices
The countdown begins. You're gonna cop the Big Breakfast at 11 p.m.? Nice.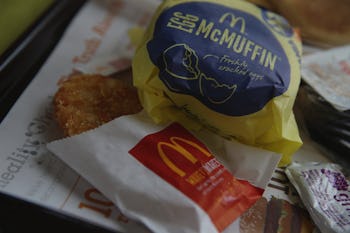 Getty Images
Ding, dong: The 10:30 a.m. cutoff is dead. The Golden Arches beam with more greasy light on this day. McDonald's has announced that, beginning October 6, it shall offer breakfast items all goddamn day and night at its more than 14,300 U.S. locations. The Wall Street Journal reports that a majority of franchisees voted in favor of the move last week and that a leadership council affirmed the decision today.
The move is, of course, meant to boost sales for the slumping brand, which has seen a host of other fast-casual spots creep in on its profits. New Chief Executive Steve Easterbrook is clearly ready to take some gambles. New Chief Executive Steve Easterbrook clearly kicks major ass.
There are some logistics that different restaurants will have to figure out — by adding equipment, mostly — but The Journal says that they will, at least, initially offer the following: "sausage burritos, hot cakes and, depending on the region, Egg McMuffins or biscuit sandwiches." Alright, that's not everything, but we'll take it. In an interview, my stomach — hungover around noon on a Sunday — was quoted as saying, "Hell yeah."