These Are the Best Devices to Stream Netflix on Your TV
These devices are best for Netflix and Chill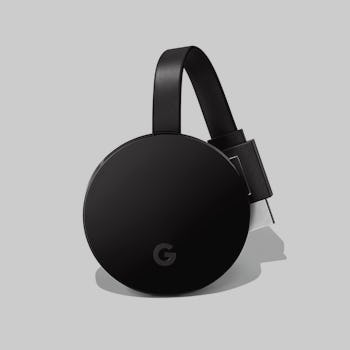 Amazon
Where would we be without Netflix? The video streaming service is producing some of its best content yet, so opting to live without it come with fairly dire consequences—in today's standards. You can access Netflix from a variety of apps, through your browser, and other ways, but we're going to show you our top picks for the best devices to stream Netflix on your TV below.
Note: If you have a smart TV, it may be your best option to stream Netflix on. This will depend on a variety of things, like the number of HDR formats your TV supports, etc. However, for the purposes of this article, we'll assume you have a 4K, dumb TV.
Surprised? The Apple TV is a fantastic media streaming box that is easy to use, and has Netflix available to it. Of course, it has a lot more than just Netflix, compliments of the App store and its TV-optimized applications. It supports some HDR formats, like HDR10, HLG, Dolby Vision, but not HDR10+. Audiophiles will also be happy to see the inclusion of Dolby Atmos here as well.
If you're looking to stay in the Apple ecosystem, then this is your only option, save for the non-4K version.
Like the Apple TV above, the NVIDIA Shield TV does a lot more than play Netflix. It ships with Android TV OS, and comes with the Google Play Store to download additional apps and games. It ships with some standard HDR formats but HDR10, but HLG, HDR10+, and Dolby Vision are notably missing. It gets worse, too. While the Shield TV supports Dolby Vision, it doesn't work on Netflix, which even spawned a petition.
While the NVIDIA Shield doesn't seem to hold up very well when it comes to streaming Netflix, it's still one of the best streaming media players out there.
If this were a post about "best streaming players" in general, the Fire Stick 4K would not be on this list. It would go to the Fire Cube, but the 4K Stick has something that none of the aforementioned players have, and that's the inclusion of both HDR10+ and Dolby Vision HDR formats. This is particularly interesting, given its price point of $50, but both the $200 Apple TV 4K and NVIDIA Shield are lacking in this department.
Whatever you think of Amazon's Fire TV OS, it certainly gets the job done, and offers a variety of device options at multiple price points. However, if you're looking for something for the primary purpose of Netflix, then this is the one.
If you're not looking for a media player that you'll have to get another remote for or fuss with new software, the Chromecast is for you. The small, puck-like player hasn't changed much since it was launched back in 2013, and is even more simple than the Fire Stick 4K above it, in that it doesn't come with a UI you interact with on your TV. Instead, using your phone or computer, you tap the "cast" icon, which is virtually everywhere nowadays, including Netflix, and choose the Chromecast. The content you want to play will then appear on the TV connected to the Chromecast.
The Chromecast Ultra was introduced in 2016 and is really the only option to consider now. Not only does it support 4K UHD playback, but it also supports HDR10 and Dolby Vision. It supports Dolby Atmos if the app in use is compatible, and is passed through the Chromecast to the device it's connected to. That said, like the Shield TV, this method isn't supported with Netflix.