Expand Your Snack Horizons With These Global Boxes
You may want to answer your doorbell for this one.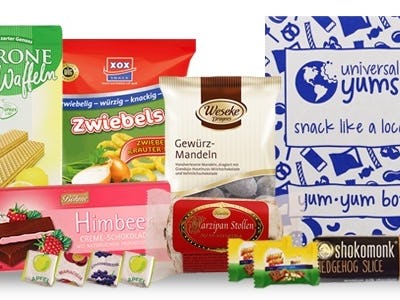 universal yums
Subscription boxes are becoming increasingly popular. In all fairness how could they not be? It's great stuff delivered to your door on a regular basis. And when it comes to subscription boxes you'd be hard-pressed to find a better one than food. Alright, if we're talking vegetables I can see how there's room for improvement. But if we're talking about delicious treats, I'd say you hit the subscription box jackpot.
So who's responsible for this scrumptiousness? Universal Yums that's who. A subscription service that delivers treats for your next snack stack right to your door.
Each box contains a variety of sweet and salty snack treats that are carefully curated from countries around the world and a 12-page booklet packed with a ton of information about the country of origin like fun facts, trivia and recipes. Past boxes have come from Italy, Poland, and Ukraine just to make a few.
How does one go about getting these treats in their belly you ask?
It's as easy as signing up for a monthly subscription. Boxes are shipped from Universal Yums on the 15th of each month. For every shipment, you'll receive a shipment confirmation and tracking information so you can keep a watchful eye on your goodies. The third and final step is important so pay attention. Once you receive your goodies in the mail, dig in and enjoy. It's that simple.
I don't know about you but this sounds pretty awesome. Snacks are one of the best parts of discovering a new culture. And you can learn a lot through your Universal Yums subscription box all without leaving the conform of your own home.