4 Chocolate-Covered Espresso Beans You Have to Try
Chocolate and coffee are a natural pairing -- like PB &J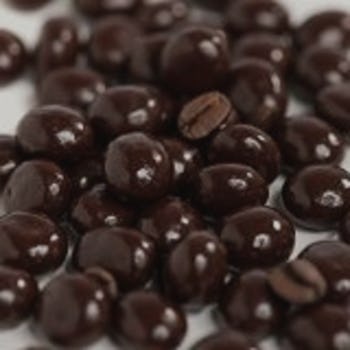 Amazon
Some flavors are made to go together. Coffee and chocolate are a perfect pairing. To get that pairing, you can have a brownie with a cup of java, or you can buy espresso beans that are covered in rich chocolate to make a snack that's energizing and just a touch addicting.
We've found some of these awesome candies for you to try. Fair warning – some comments left by buyers note that these candies can melt during shipping in the summer. If you can't wait until it's cool, we even found a company that ships with ice to keep their product from melting in warmer months.
Best Seller
Why We Choose It Hoosier Hill Farm coats crunchy espresso beans with European-style dark chocolate to create this rich and tasty snack. Ingredients include dark chocolate, sugar, cocoa butter, milk fat, and vanilla as well as coffee beans. If you have allergies, be aware this product does have soy and milk ingredients.
Special Care in Shipping
Why We Choose It When it comes to chocolate, three kinds are better than one. With this 3-pound jar of Chocolate Espresso Bean Blend, you get beans covered in white, milk, and dark chocolate, with the dark chocolate a rich 47% cocoa blend. Dilettante uses fresh roasted beans and chocolate made with natural ingredients to create this java morsel. During warm months, the company ships the candy with an ice pack and special packaging to keep the chocolate from melting, but you pay a premium in shipping costs for this service.
No White Chocolate
Why We Choose It If you like chocolate, but not white chocolate, SweetGourmet's mix of dark and milk-chocolate-covered espresso beans is for you. These candies are made in the USA and are kosher certified. As irresistible as they are, however, there are a lot of allergy warnings because these treats are processed on equipment that may have been used on tree nuts, wheat, shellfish, eggs, milk, peanuts, fish, and soy. (Disappointing, but good to know if that concerns you.)
Premium Ingredients
Why We Choose It Marich's Barista Blend uses dark, white, and milk chocolate. The rich chocolate coating is made from high-quality, fair-trade cocoa sourced from Ecuador, the Ivory Coast, and the Dominican Republic. Most ingredients are non-GMO, and there's no artificial anything. Marich is a second-generation family-owned candy maker in central California.