Learn New Languages in Just 15 Minutes per Day With This App
Study A New Language During Your Commute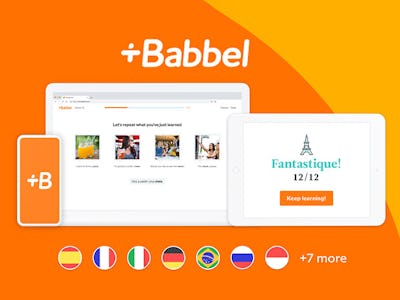 StackCommerce
The Details:
Practice using 10-15 minutes bite-sized lessons
Learn language skills from beginner to advanced
Why You Want It:
Learning a new language doesn't have to involve a complete change in lifestyle. No need to spend six months in an intensive language school, just grab this simple and innovative language app. Babbel features 14 languages you can learn from the basics to advanced speech in 10-15 minute long lessons, so learning a new language can work for you no matter how tight your schedule is.
The Deal:
A lifetime subscription to Babbel language learning app usually costs $299, but right now you can get one for a full 50% off the usual price for only $149. For all the time and money you'll save learning a new language with this app instead of in the classroom, it's a knockout deal.