Three Category-4 Hurricanes Hit the Pacific at Once, for the First Time Ever
Blame El Niño, and likely climate change, for this unprecedented event.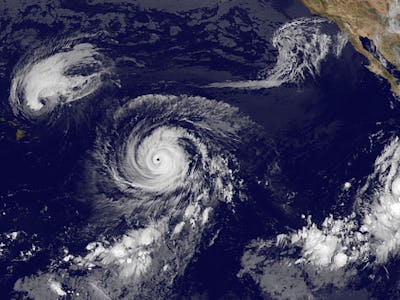 NASA
This week NASA captured some incredible images of three Category 4 hurricanes lined up over the Pacific. Feel free to ogle their glory guilt-free: Kilo, Ignacio, and Jimena are all expected to taper off before they strike land.
"It's the first time that we've seen three not only major hurricanes but three Category 4 hurricanes simultaneously in the eastern and central Pacific," Anthony Renyes, a meteorologist with the National Weather Service in Honolulu, tells Inverse by phone. "That has never happened before."
It's never happened, at least since we've been able to capture images of the ocean from above by satellite. We only have reliable records for the Pacific back to 1970, Dennis Feltgen, a communication officer with the National Hurricane Center, explains via email.
"For weather enthusiasts, it's a very impressive event," Renyes says. But for those who were paying attention, it wasn't all that surprising: "If there's a year that we could have expected that, that's certainly this year, because of the El Niño." El Niño events bring warmer water to the surface of the Pacific, which allows storms to grow stronger. In El Niño years, the Pacific Ocean becomes quite active, while the Atlantic calms down. Forecasts predict next year to be a more typical season, with more big storms in the Atlantic, Renyes says.
Climate change likely is an aggravating factor, rather than a cause of, these storms. "Of course, generally warming oceans also contribute to stronger tropical storms, but it's tough to blame climate change for any particular event or even season of storms," Jennifer Francis, an atmospheric researcher at Rutgers University, says via email. Emerging climate research, however, suggests that climate change could be linked to more persistent weather patterns, like the "Hot Blob" of warm water off the Pacific coast that is fueling this year's wicked El Niño season.