750 People Gave These Under $40 Wooden Sunglasses a Nearly Perfect Review
These wooden sunglasses perfectly marry style and sensibility.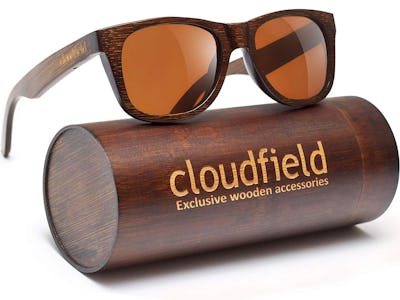 Amazon
Every summer it is the same song and dance. You open your door, are blinded by the light, rev yourself up like a douche, erm, I mean, go blind, and end up stopping at the nearest convience store for cheap-o sunnies.
(P.S. I'm deeply disappointed in you if you missed that spectacular pun).
Anywho, by August, you've probably spent over $100 in sunglasses that met an untimely demise. What you could do instead is commit yourself to a singular decent pair and spend less than half of that. And if you're ready to take the sunglasses plunge, we have the perfect suggestion for you.
These Cloudfield Sunglasses Are Beloved by Over 700 People, and When You Get a Good Look at Them, It's Easy to See Why.
The frames are made entirely out of bamboo. There are four options for lenses: black, brown, blue, and rose tinted. Each order comes with the glasses, a bamboo case, and a microfiber towel to keep them fresh and clean. The 9-layer polarized lenses are made with a double UV blocking coating, keeping your eyes glare-free.
Which Is a Huge Reason So Many People Are Loving on Them,
"The shades are ridiculously comfortable (love the flexible hinges) and lightweight while taming ALL the sun glare like a beast," boasted reviewer Blake Miller. "Pretty sure they are also going to become my favorite shades for boating on the lake!"
He Certainly Wasn't the Only One Who Loved Them…
"his is one very classy pair of sunglasses," gushed reviewer Akin. "It is light weight and so comfortable. One of the coolest part of this pair of sunglasses is the wood temple and the design on it, and they never leave face marks. It's so unique and it fits my style perfectly. The best part are the lens, dark with very good UV protection yet crystal clear. It is truly HD. I just love everything about it. It ticks all the boxes for me, perfect match of quality, comfort and style!"
Of course, that isn't to say it is without it's flaws. Several reviewers claimed the wood was broken or the case was cracked. But on the upside, they also boasted that customer service was quick and satisfactory — replacing the damaged item at no additional cost or inconvenience to the consumer.
So if You're in the Market for Some Cool Frames, Consider These Wooden Wonders.