Learn the Basics of Investing & Personal Finance Without Breaking the Bank
This innovate 'pay what you want' course bundle will help you find a path to financial freedom.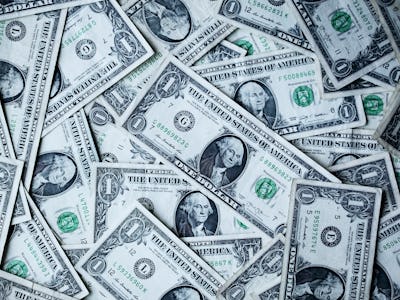 Unsplash / Sharon McCutcheon
If you feel like you never properly learned how to handle money or invest in your financial future, you're not alone. These days, it seems like more and more people are living on the edge of financial ruin, with debt and deprivation becoming two unavoidable components of everyday life. But when it comes to getting your finances in order, it's possible all you need is a little guidance to get back on the right path. If that's your situation, check out the incredible deal on this comprehensive Personal Finance Bundle. Not only was it created by experts to teach you the ins and outs of personal finance so you can set a course to financial freedom, but it also offers a unique, "pay what you want" payment model that could end up saving you money right off the bat.
The bundle includes lifetime access to over 33 hours of hands-on training covering eight different sectors of the world of finance. Each individual course offers a wealth of material that will put you on the road to financial success. Here's a quick look at the different courses include in the bundle:
The Ultimate Guide to Personal Finance
The whole point of financial planning is to secure a better future for yourself and your family, and this course will provide 19 lectures and 2.5 hours of content to help you learn how to do just that. 
Complete Stock Market Starter Toolkit for Beginners
The stock market can be extremely intimidating for beginners, but this 6.5-hour collection gives you everything you need to become a stock market sorcerer on your own time - capital not included. 
Create A Budget That Works
Financial discipline can't be taught, but learning how to budget effectively and in a way that's sustainable over time is an important factor of any financial plan. This course will give you everything you need to start budgeting (except money).
Personal Finance Masterclass
Once you get past the beginners' stuff, it's time to start managing your wealth and making it work for you. The Personal Finance Masterclass will teach you how you can become financially independent without winning the lotto.
Value Investing
What's the point of having money if you can't turn it into "passive income"? This course is focused on turning your money into a secure stream of income that will carry you through emergencies & job losses, and into a comfortable retirement.
Personal Finance Volume I: Wealth Creation
This course will teach you all the ins and outs of wealth creation, including deeper explorations of topics like personal budgeting and investing. 
Finance for Freedom
Based on the idea that it can take just 30 days to get your finances under control, this course will help put you on the right path no matter your circumstances or your situation.
Investing 101
Finally, we have another guide to investing designed to help you make the most of your money. The most intriguing aspect of this course is probably its promise of a "risk-free, 10% annual return from the stock market using simple strategies."
Altogether, these courses would set you back around $650. But with StackSocial's "Pay What You Want" System, you can get them all for the average price of others are willing to pay. As of this writing, that's $16.25. Beat that price, and you'll get everything. Pay less, and you'll still get something great. And if you pay more than anyone else on the leader board, you'll get the course, and you'll be entred into a StackSocial giveaway.
So check out the Pay What You Want Personal Finance Bundle right here, and start yourself down the path to financial freedom.