Get a Six-Figure Project Management Job With Help From These 5 Courses
Learn Project Management From Home And Change Your Career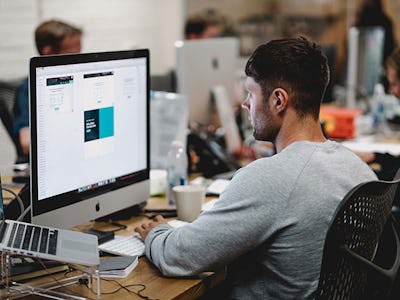 StackCommerce
In the modern workforce, project management is more important than ever. Ensuring quick development and turn-around on projects increases efficiency and performance, so it's easy to see why every industry is seeking to hire project management professionals. Get it on the project management gold rush and learn the skills you need for a career with these five affordable courses.
The Agile Expert Project Management Bundle
Although it was originally developed for the software industry, Agile is quickly becoming popular throughout the workforce. More companies are going digital, and project managers who specialize in Agile are in high-demand. Learn everything you need about Agile and the Scrum framework to get certified with this three-course bundle. It's now available for 94% off the full price of $750 so you can grab this bundle and start your lucrative career in project management for $39.
The Project Management CAPM® Certification Training Bundle
The best way to boost your resume and improve your odds on the job market is by getting certifications in valuable skills. This certification bundle will help you get the CAPM (Certified Associate in Project Management) certification on your first try. CAPM is the standard that employers use to assess your project management skills, so being certified is a great way to break into the field. Save 97% when you get this three-course bundle and get CAPM certified for just $19.
Project Management Essential Certifications Bundle
This wide-ranging six-course Project Management bundle will give you access to secrets of Agile, ITIL, PMP, MSP and more. This bundle also includes IASSC accredited Lean Six Sigma yellow belt training, which will get you started in one of the most widely recognized project strategies in business. The combined cost for these six courses is $2,856 but you now can save 97% and get all six courses for just $79.
The All-Inclusive Project Management Bundle
Every company wants to become more efficient, and so having a project manager on staff is a must. If you're interesting in a career upgrade to project management, this comprehensive bundle will introduce you to the essentials needed for this exciting and lucrative career.
In 90 complete courses and hundreds of hours of content, you'll cover a variety of topics and test your knowledge using online quizzes. You can even earn certificates of completion for each course you finish. This All-Inclusive Project Management Bundle is available for just $19.
Timelinr Personal Plan: Lifetime Subscription
There's no project without a plan, and the planning's only as good as its management. Timelinr is the project planning app designed for in-depth strategy. This app allows you to create high-level roadmaps in seconds so your team and clients can stay in the loop.
Plan your project's tasks and resources, use unlimited timelines, and invite team members to collaborate and share tasks and responsibilities. A lifetime subscription to Timelinr Personal Plan normally costs $1710, but right now you can get it for just $49.99 — a 97% discount.