These Are the Highest Rated Lawnmowers on Amazon
Three models that will make your Saturday morning chore easier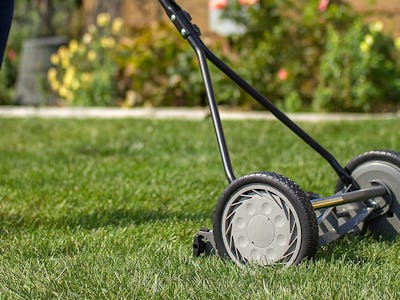 Amazon
For the most part, your lawn dictates what sort of mower you need. If you have a small city or suburban yard, especially if it's relatively flat, an electric or reel-type mower might be a good choice. Corded electric mowers do require you to learn to maneuver around the cord, and reel-type mowers require a certain amount of stamina to push around your yard but chalk it up as exercise.
Amazon offers a variety of electric and reel-style mowers. Here are some of the highest-rated ones that have maintained good ratings while receiving reviews from at least 2,000 customers.
7 Height Adjustments
GreenWorks 20-Inch 12-Amp Corded Electric Lawn Mower
Why We Chose It If you've got a small yard, this GreenWorks electric lawnmower with cord can take the pain out of yard work. The cutting blade works at seven different heights, allowing you to adjust it for the grass in your yard and the season. You can also choose between mulching, side discharge, and rear bag settings. To start the mower, just push a button – no string-pulling required – and when you're ready to put it away, the handles fold for compact storage. This mower has high ratings from nearly 4,000 customers on Amazon.
Earth-Friendly Option
Why We Chose It Reel-style mowers like this 16-inch mower from Great States give you a precise, clean cut on the grass blades, rather than tearing them as some rotary mowers do. That means the grass blades stay healthier, and you're less likely to have to water the grass or apply pesticides to your lawn. Add that benefit to the human power (rather than petroleum) that makes this mower go, and it's definitely the best choice if you're concerned for the environment. The steel blades stay sharp a long time, and the cutting height is adjustable to as low as one-half inch. It has 4.2 stars with more than 2,000 ratings on Amazon.
Comes With Grass Bag
Why We Chose It If you've got a small yard, a quiet, gas-free electric lawn mower is the way to go. The Sun Joe Pro has a hard-top rear collection bag for clippings that easily detaches when you need to dispose of the grass. The mower cuts a 14-inch swath of lawn with each pass, and the steel blades provide a sharp, precise cut. The mower has three heights with manual adjustment. This mower has been rated nearly 3,000 times on Amazon, including one comment reading "It is light enough for me to lift it easily when I take it out or put it into the storage cabinet …. And I am a 79-year old woman." (For the record, it weighs about 30 lbs.)