These Could Be the Perfect Sheets You Need for Summer
Surviving the heat is all about using the right fabrics. Put these on your bed.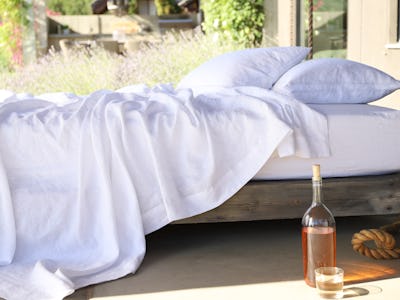 Unsplash / Lilibeth Linares
You wake up in the night, sweating and stuck to your sheets. You kick them off and — finally — get back to sleep. But you wake up an hour later, cold because you were damp and now you are completely exposed to the air. And where are those sheets now? In a pile on the floor. You struggle to make the bed, in the dark and half asleep. Then it starts all over again.
This is summer with the wrong sheets. Or it's every night for people who sleep hot.
The secret to surviving in a hot and humid climates is all about the fabrics. Don a breezy linen and you'll enjoy the warm air. Wear a heavy cotton and you will feel oppressed by the humidity. This is all even more so with the sheets on your bed.
You need something that breathes, a texture that slides across your skin, feeling soft but weightless. You want the softness of flannel without it's heft and absorbency. If you start to sweat, even a little, you do not want that water sitting against your skin. That's when you humidity - or your own tendency to heat up when you sleep — feels intolerable. If the fabric against your skin lets that moisture evaporate through it, you don't even notice. In fact, then your body experiences what sweating is trying to do: regulate your temperature.
These sheets are the modern answer to all the necessaries of surviving hot and humid weather, overheated rooms, and circadian rhythms that include night sweats.
They are brushed to feel soft — like flannel — against your skin and light and breathable so no water sits on you waking you up gasping for air.
Bonus points for being super affordable and available in so many awesome colors.