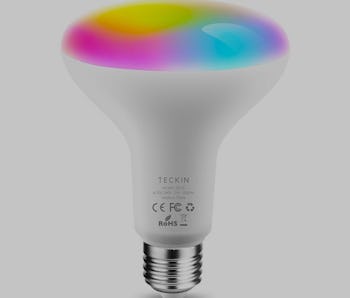 Innovation
6 Smart Home Items With a 5 Star Rating on Amazon
These smart home items won't let you down. 
Amazon
It's hard to maintain a 5-star rating on Amazon, and if you see one, it's hard to believe it will stay there for long. That's just the sad truth. When it comes to smart home items, you can expect a 5-star rating to wane quickly — from either compatibility issues, user error, and everything in between. So, to help anyone in their journey of finding smart home products that are worth your money, backed by a high-star rating, check out the following smart home items.
Wifi Smart Plug Gosund Mini Outlet
It's true that smart plugs are possible the most boring smart home item you can buy, but there are literally dozens and dozens to choose from. As an owner of the Wemo Smart plugs, I can say that if I had a chance to replace them with another brand, I would, and probably with the Gosund Mini Outlet.
When it comes to smart plug features, there usually aren't a lot. They're an easy way to make dumb devices or appliences smart and little else. What makes them so useful is that they can be used with a smart assistant like Amazon Alexa or Google assistant.
The best part about this particular smart outlet is the price. You can get four at basically the price of one of the more popular options.
KULED Smart LED Light Bulb
Most people looking into smart lighting solutions tend to opt for the popular options, like Philips Hue or LIFX. While there's certainly nothing wrong with doing this, it can be a rather hefty investment. And the cheap ones.. Well, they're cheap for a reason, right?
The KULED Smart LED Light Bulb is relatively new to Amazon, but has a 5-star rating and gets the Amazon seal of approval, as Amazon's Choice for "smart led decorative bulb." The multicolored LED light bulb works with smart assistance, gives you 16 million color possibilities, and you'll get two for half the price of a single Philips Hue bulb.
Linkind Smart White LED Bulb
If you're in the market for smart lighting but don't care to use them for anything but turning them on or off, then the Linkind smart white LED bulb is perfect for you.
While the Linkind smart LED bulb won't offer up rich colors like some of the multicolored options out there, to say that it doesn't change colors would be a lie. From the companion app, you can change the light color from warm white to cold white, which makes it a very versatile and functional bulb. This allows you to have cold lighting during the day when you'd like to be more attentive and alert and warmer lighting in the evening when it's time to relax.
TECKIN Smart Light Bulb
Looking for a high output smart lighting solution without breaking the bank? Done. The Teckin Smart Light bulb is exactly that. The E27 bulb can reach up to 1300 lumens, which is plenty bright for multiple lighting situations.
As with all smart lights, you can expect Teckin's option to run the gamut. Timers, voice control via smart assistance, remote control app, IFTTT support, and more are all accounted for in an LED bulb that can last you nearly 30 years.
NETVUE 1080p Pet Monitoring camera
Not all always-on in-home cameras are for security, and the Netvue 1080p pet monitor is a good example of that. Since it's a camera, it can easily be used for more than monitoring your pets while you're away.
The camera will send you a push notification when it senses movement if you want, and also comes with a night vision mode, bringing you perfectly viewable footage in near pitch black darkness. It's also compatible with Alexa, and you can bring up the video feed on something like an Echo Show simply by using your voice.
Zoozee Smart Plug Wifi Outlet
As mentioned earlier, smart plugs are pretty boring. That said, some can provide helpful insights as to how much energy you're using. The Zoozee Smart WiFi plug does just this, allowing you to monitor the energy consumed per outlet. This is great, especially when you consider that one of the bigger names in the smart outlet market, Wemo, offers a similar solution that's $40 for a single plug. Zoozee offers you two plugs for half of that price.