Who Is Zemo? 'Civil War' Villain Will Be the MCU's First Disney+ Villain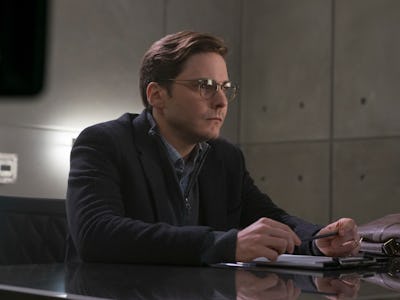 Marvel Entertainment
Marvel's first Disney+ series will be The Falcon and the Winter Soldier, and it turns out the streaming show will feature a classic Marvel Cinematic Universe villain with a Phase 4 update. Helmut Zemo is back, but the Captain America: Civil War villain looks different.
Zemo appeared during Marvel Studios's Hall H panel at San Diego Comic Con during a presentation focused on the Disney+ series starring Anthony Mackie and Sebastian Stan. As attendees noted, he was wearing a hood similar to the one he often donned in the Marvel comics, suggesting he'll become more of a full-fledged villain in the MCU's Phase 4.
In the MCU, Zemo was a survivor of Ultron's attack on Sokovia who blamed the Avengers and set out to pit them against each other by revealing how the Winter Soldier was brainwashed and forced to kill Iron Man's parents. In the comics, Zemo's German father teaches him Nazi ideology. As a result, he set out to take down Captain America.
It seems the Disney+ version of Zemo will borrow a bit from both versions, though he'll clearly be the same character we saw in Civil War, just with a new outfit. It seems this time he'll be focused on taking out the new Captain America (Mackie's Sam Wilson), bringing the villain closer to the comic book version.
We'll know more when Falcon and the Winter Soldier debuts next fall on Disney+ but it's exciting to see how the streaming service will give Marvel a chance to tell new stories with its supporting heroes and villains.
The Falcon and the Winter Soldier launches Fall 2020 on Disney+.