'The Eternals' Gets a Release Date for the Most Diverse MCU Film Yet
The most diverse and sprawling MCU story yet is coming.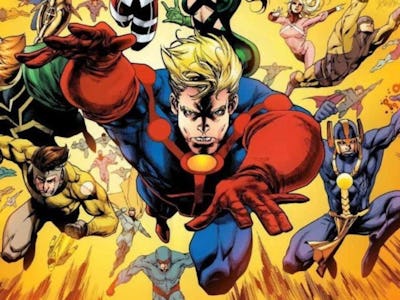 Marvel Comics
The next big superhero ensemble to arrive in Marvel's Phase Four will be the MCU's most diverse superhero film yet, blending a cosmic scope with an Earthbound tale of superheroics in Eternals, what might wind up being the most diverse superhero movie of all time. Finally, we know the full cast, a release date, and even the official logo thanks to a huge Marvel panel at San Diego Comic-Con.
On Saturday evening of San Diego Comic-Con, Marvel Studios took over Hall H to deliver news about the upcoming slate of Marvel Cinematic Universe movies that'll arrive over the next few years as part of Phase Four. After Black Widow in fall 2020, the next major entry is Eternals, a story about Celestial beings that granted a select few individuals the ability to tap into the cosmic powers of the universe. Directed by Chloe Zhao, it'll hit theaters November 6, 2020.
During the panel, Marvel Studios President Kevin Feige compared the story to "an ancient aliens kind of sci-fi trope." Similar to how Odin, Loki, and Thor in the MCU fed into human's conception of Norse myth, Feige posits that the Eternals of the MCU could relate to humanity in a similar way. "There's this notion of all of these myths and legends that we know from ancient times, were they inspired by the Eternals?" he said. "Were they Eternals?"
Unlike the Asgardians, who were worshipped by Norse cultures, the Eternals span across multiple cultures in a much more diverse story about mankind's relationship to the cosmic beings of the Marvel Cinematic Universe. Kevin Feige noted that the film will span eons in the lives of these immensely powerful beings.
In Jack Kirby's comics, Celestials — like Star-Lord's father, Ego; Jeff Golblum's Grandmaster from Thor: Ragnarok; and many others — came to Earth in ancient times and experimented on prehistoric humans. A select few became Eternals, who could tap into cosmic energies. For perspective, Thanos (whom we're all familiar with by now) was an Eternal with genes from their evil counterparts, the Deviants.
Here's everyone in the major cast of Eternals: Angelina Jolie as Thena, Salma Hayek as Ajax, Richard Madden as Icarus, Brian Tyree Henry as Fastos, Kumail Nanjiani as Kingo, Lauren Ridloff as Makkari, Don Lee as Gilgamesh, and Lia McHugh as Sprite, one of the oldest members of the Eternals. Each of these beings is said to be around 35,000 years old.
"This movie will allow those who have never felt represented in movies, in this case superheroes, to be represented," actress Salma Hayek said on stage. "I love my diverse family." Hayek's Ajax is said to be the leader of the group, a genderbent version of the god Ajax from Greek mythology. Macary's character was noted as "the first deaf hero in the MCU."
The multicultural film will span across eons of the Earth's history, but it's unclear at this time exactly what the narrative will entail. Eternals is currently in production.
Marvel Studios' Eternals will be released November 6, 2020.