Foolproof Moving Tips to Land the Home of Your Dreams, From a Serial Mover
After moving ten times in 11 years, you learn a few things.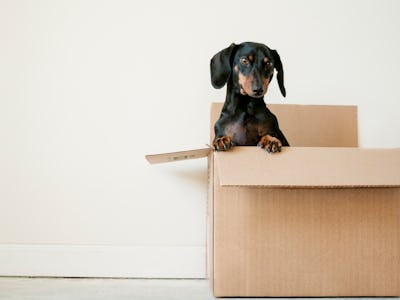 Unsplash / Erda Estremera
Moving gets a bad rap. There was even a viral survey from a couple years ago suggesting that people find moving to be the most stressful life event, even more than getting a divorce, which is — with all due respect to the energy company which produced this survey — a pretty dubious assertion. A more scientific study about life's most stressful events found that, unsurprisingly, there are lots of worse things that can happen to you besides moving, including your spouse dying or you being sent to prison. "Changing living conditions" came in 28th.
Of course that real-estate broker was lying when they said the apartment "came with garden access." But let's try and have a little perspective, people. 
Ali Wenzke moved 10 times in 11 years and recently published The Art of Happy Moving about the experience. Wenzke even says moving can be fun. I had to call her up to figure out what all of us complainers are doing wrong.
Try This Tactic
The first thing Wenzke does when she arrives in a new city? Get a new library card.
"Sign up for a library card; it's one of the first things we do," she tells Inverse. "You can get discounts to local museums and other things in your area. And obviously you get the books and streaming and all that."
Move Like a Champ
I can see why most people view moving as a necessary evil. It's very expensive. The median rent for a one bedroom is about $1,000, according to the latest data from Apartment List, meaning you're out at least $2-$3,000 on first/last month's rent and a rental deposit. Moving costs pile on another few hundred dollars, depending on the size of your home, according to estimates from HomeAdvisor. Most people have trouble coming up with that kind of money.
But despite the stress-inducing surveys, moving can actually be great. It's an opportunity to save money if you're downsizing, or to make more money if you're relocating to be closer to a better job. It can be a chance to get your kids closer to a better school or to get some much-needed extra space. Most interestingly, moving is probably one of the best opportunities you'll get to knock bad habits, according to some research, thanks to the so-called "discontinuity effect." Recent movers are more likely to take up recycling or green commutes like biking, for example.
"Moving can be really fun," Wenzke says. "It's an adventure, an opportunity for a fresh start. Moving gets a bad rap, but it can be exciting. It's a new chapter. I really tried to focus on the positives."
It's hard to see the positives, Wenzke explains, because moving can be so exhausting that it's hard to do anything other than conk out on a pile of boxes and binge Netflix. It's important to resist this temptation, because one of the most common mistakes movers make is forgetting to take the time (or being too tired) to literally go outside, which can really take a toll on our mental health. Not only that, but it keeps you from getting to know your new neighborhood.
"Even if it's just things like … mowing your lawn, be outside," she says.
Here are four of her other best tips (besides getting a library card).
4. Know What's Up for Negotiation 💵
Once you already have an apartment, you have leverage to negotiate your rent down when a renewal comes up. If you leave, then the landlord's not collecting rent that month and may even have to hire a broker to find a new tenant. But if you're moving into a new apartment, landlords have a lot of leverage to set the price and are fiercely concerned with maintaining the monthly rent, Wenzke explains. For landlords, lowering the monthly payment is a major opportunity cost for them, as it affects what the next tenant will pay (and so on).
Everything besides the monthly payment, however, is much more negotiable, including the length of the lease, parking fees, deposit returns, cleaning fees, and pet fees. Wenzke's crowning achievement is getting a $250 a month parking fee waived when her family recently moved to Chicago. I got a landlord to waive all the credit check fees, which was about $160. These fees are where you should be willing to play hardball.
3. Make Friends Before You Move 🚶
This is more relevant to more extreme cases where you're changing cities, but Wenzke recommends making sure you always find a "first friend" when relocating to a new place.
"Someone always knows someone who knows someone who lives in Seattle or Miami," she says. "It's a lot easier to go from one person to several people than it is to meet that first person, even if they aren't your best friend." So work on finding that first friend early.
2. Always Get a Movers Quote 🚚
A big question that I personally get about moving is whether it's still acceptable to ply friends into helping you move with the offer of free pizza and beer — or if it's time to grow up and call a moving service. Roughly half of movers use a service, according to the HomeAdvisor survey. Regardless of whether you really plan to use a service, however, Wenzke says to get at least three quotes from professional movers.
"[Even if you do it yourself], you'll also feel great about it because you'll know exactly how much money the effort saved you."
Personally, I say hire the movers.
1. Pick Boxes That Get Extra Love ❤
When it comes to packing, Wenzke says the conventional wisdom — pack by room, i.e., boxes marked "kitchen," "bedroom," etc. — is right. But she had an additional policy I thought was very clever.
"If there's something in [a box] you love, put a heart on the boxes, and then start with those boxes when you unpack," she explains. "Those are the things you love the most."
Wenzke had some other advice I'd never heard before. She recommends opening your mail by the mailbox, for example, instead of taking it into your home. That way, you're more likely to be able to chat with neighbors. And even if you're not planning on staying put, Wenzke still recommends you try to paint. Your favorite colors, she says, go a surprisingly long way toward making a strange room feel like home.
All of Wenzke's advice reminded me a lot of one of my all-time favorite songs, the 1940s standard "Accentuate the Positive," which was covered by everyone but covered best by the late-and-great Dr. John in 1989. That axiom speaks a lot to how to make the most of a move. Don't dwell on what you miss, but rather fantasize about the new start. Don't start with the heaviest boxes; start with the ones with your favorite stuff. Don't stress over the pain of painting (and repainting once you move out), but think about the blue kitchen or that red bedroom you've always wanted.
Moving may be inherently a bit of a pain. But Moving is also what you make of it.