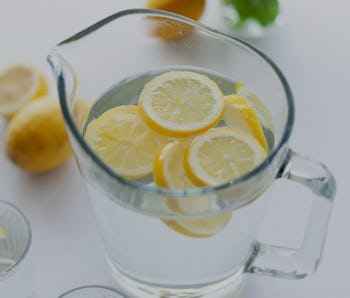 Mind and Body
You Should Drink More Water. This Will Make It Easier.
You know you should be drinking around 64 ounces of water a day. But you don't like the taste of water. We know, it's boring. But this will make it easier.
Unsplash / Julia Zolotova
Are you drinking 64 ounces of water a day? You know you should. But you're not alone if you don't necessarily enjoy drinking water. It's plain, it has no flavor. It's just not exciting. So what are the alternatives? Many people turn to sports drinks, juices and sodas to quench their thirst. But even if they do help you stay hydrated, they're loaded with sugar. So what's a hydration-conscious person to do?
The Hydrant difference
Hydrant is an additive you combine with water to boost your vitamin and electrolyte levels. Pretty much every drink has some form of vitamins. Even though water tastes plain, it usually also has potassium, magnesium, sodium, and zinc. Your body needs these essential vitamins to function properly. But depending on your location the water supply might have varying levels of those vitamins. So, you might not be getting as much as you need to maintain your health. If the vitamin levels in your water supply are too low, you could end up dehydrated or with a vitamin deficiency, even if you're meeting the recommended H2O intake.
So what does Hydrant do?
In short, it improves your vitamin consumption by increasing your water's nutrient levels. Each Hydrant packet includes potassium, zinc, sodium, and magnesium. These help to safely increase nutrient levels you're consuming in the water you drink. And increasing your hydration with Hydrant is easy. Just add it to your water and be sure to shake it well.
The Hydrant difference
So, is this product better than other soda and water alternatives like sports drinks and electrolyte-enhanced sweetened water substitutes out there? Hydrant has 80% less sugar and four times more electrolyte levels than those options. It's also vegan-friendly drink with only 20 calories in each packet. And you can pick from three naturally fruit-flavored options—lime, blood orange, and grapefruit. Hydrant does contain sugar, but it's a very small amount to help your body absorb electrolytes.
Good to know:
Each Hydrant packet is designed to be mixed with volumes ranging from eight to 16 ounces of water. For a sweeter flavor, choose eight ounces. For a hint of flavor, add more water—up to 16-ounces.
Instead of artificial sweeteners, Hydrant uses cane sugar for a more natural flavor.
Did you tie one on last night and now you're feeling it? Hydrant is ideal for a post-night out recovery solution. Hydrant helps to rebalance your body and avoid dehydration and that nasty hangover.
If you're planning on breaking a sweat, Hydrant can keep your body perfectly fueled while you lift weights or run on the treadmill. Use it before, during or even after your workout.
If you've ever been nauseous or suffered from "upset stomach", Hydrant is perfect for replenishing your body and keeping you hydrated after vomiting or diarrhea.