It's Summer. You Need Sunglasses. These Are High-Quality and Cheap
It's summer and you need sunglasses. But buying a pair of shades shouldn't leave you eating instant ramen until your next paycheck. Warby Parker to the rescue!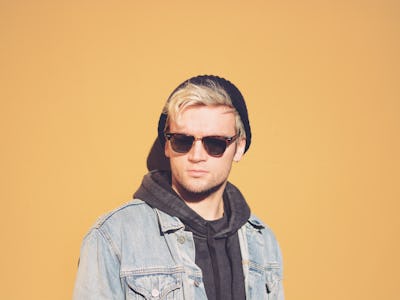 Unsplash / Nick de Partee
Summer is in full swing and that means you're probably spending more time outside, soaking up that glorious sunshine. Of course, you're wearing SPF and UV blocking sunglasses right? But if the answer's no for the sunglasses, is it because you're not in the market to spend an arm and a leg on a new pair of shades? We get it, it's a serious investment—especially if you need prescription sunglasses. But you can pinch pennies and be stylish with these six fashion-forward shades from Warby Parker.
You can't go wrong with a classic set of frames like Barkley. When you opt for a timeless look, that means you can hold on to these bad boys longer. Barkley takes us back to the 60s but is still sleek enough to hold its own in the modern world. Most importantly, these frames have been tested to hold up to abuse, and include lenses that are coated to be scratch resistant and block out 100% of the harmful UV rays your science class warned you about in high school.
Who's up for a little gradient action? If you rose your hand, then say hello to Fletcher. Once upon a time, we were all told that you couldn't wear black and brown at the same time. But Fletcher throws that notion out the window with these frames that transition from black uppers to brown around the lower half of the lens. While there are two other colorways to choose from with this style, we're showing you the coolest option.
These are limited edition shades, so you need to get your hands on them like yesterday. Haskell is perfect for the trendsetter. Lucite lovers will rejoice with this style because they make see-thru look so darn amazing. We're showing the aloe crystal version here which is a soft gray-green clear hue, but you can also choose between five other options, including two frosted styles.
Once again, classic is always in style. This time, we're talking about an update on the ever-popular aviator frames. Raider features a keyhole bridge which is a modern twist on the iconic frame. And if you're concerned about metal frames, don't be. All of Warby Parker's metal frames are constructed from hypoallergenic stainless steel. So, your skin will thank you. Choose from three colorways, but we're featuring the brushed ink option.
If you have a wider face, shopping for sunglasses can feel like an effort in futility. It's like the glasses world just wasn't made for you. But lucky for you, Warby Parker does make a number of their most popular shades (and regular glasses frames) in wider widths so no one is left out of the party. Abe is the perfect alternative to the classic aviator frame for people who feel like that particular silhouette isn't doing their face any favors. Instead of the triangular shape, you're used to, Abe is a tad more square and less angular. And don't worry, if wide widths aren't a necessity for you, Abe is also available in regular widths.
We're finishing up this sunglasses roundup with Fisher, a round frame. For those who prefer shades that make a statement, you can't go wrong here. Fisher is a sleek metal frame with a keyhole bridge that instantly makes you look cool the minute you wear them. Available in three colorways, they're also made of lightweight hypoallergenic stainless steel and are available in wide widths.
All sunglasses from Warby Parker are made from either lightweight hand-polished cellulose acetate or hypoallergenic stainless steel. All the lenses are scratch-resistant and are designed to block out 100% of UVA and UVB rays. And you don't need a prescription to shop at Warby Parker—all you need is a desire to be fashionable.