'The Spongebob Musical' Is About to Be a Thing on Broadway
The Nickelodeon series finds its tune.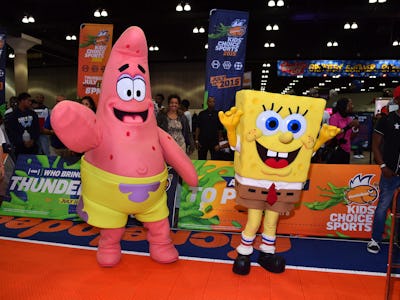 Getty Images
The idea of a Spongebob Squarepants musical is one of those things that should have happened in like 2005. Alas, it is 2015 and here we are: Spongebob is coming to Broadway.
The popular Nickelodeon cartoon about the miscellaneous adventures of a yellow sponge dwelling in the Euphotic Zone will be developed into a Broadway production. Performances are scheduled to begin June 6, 2016, and run until July 3 at Chicago's Oriental Theater.
According to TheWrap, the musical will include original songs from major headlining acts: They Might Be Giants, T.I., Aerosmith, "geek" rocker Jonathan Coulton, Dirty Projectors, The Flaming Lips, John Legend, Lady Antebellum, Cyndi Lauper, Panic! At the Disco, Plain White T's, and beloved children's musician David Bowie. Steppenwolf's Tina Landau is directing with music supervision by Tony-winner Tom Kitt.
"SpongeBob long ago transcended to become a pop culture icon inspiring everyone from kids and families to artists and musicians, pro athletes, movie stars, fashion designers, social media mavens and even the President," said Cyma Zarghami, president of Viacom Kids and Family Group in a statement. "[B]ringing him to Broadway is a way to give him a new platform, literally, to reach audiences of all ages who are looking for an engaging, funny and innovative musical theatre experience."
With over fifteen years on the air, Spongebob Squarepants has been a juggernaut franchise for Viacom and Nickelodeon. The series has spawned two theatrical films, theme park rides, countless merchandise, and even an official short film competition, but "expensive musical" is still absent from the portfolio. And Broadway is currently devoid of popular family-friendly productions, so now is as good a time as any to get those sweet tourism dollars.