The Best Bluetooth Speakers You Can Order on Amazon
These speakers will change the way--and where-- you listen to music.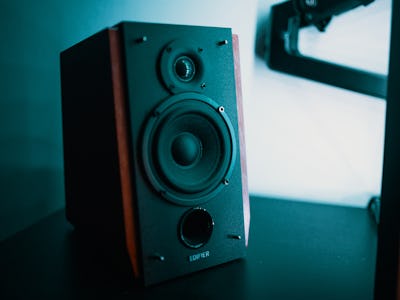 Unsplash / Josh Sorenson
There was a time in my life where I didn't understand the importance of listening to music loudly. Perhaps I owe it to my fourth grade teacher who often cited her hard hearing as direct evidence of years of loud music listening or the house I grew up in making me feel like I needed to be as small as possible in order to have a space within it. But over the years, I've found great love in driving on the scenic route with the windows down and listening to music as loudly as I can stand. And my partner—a heavy metal devotee—has taught me the importance of a song that's meant to be listened to as loud and as fast as possible.
If you're like us and have found certain relief into listening to music beyond the sound capabilities of your smartphone or computer, you'll enjoy at least one of these amazing Bluetooth speakers that Amazon has to offer.
The One That Pairs With Other Speakers For Surround Sound
Why We Picked It: Alexa compatibility is a huge plus on any device these days. Before the future arrived, we thought the closest we'd get to convenience is clapping to turn a light on and off, but now we can use our voices. This [amazing little speaker from Sonos](https://www.amazon.com/dp/B07NJPXRBC?aaxitk=YnCLqATotnqR4LZyLxGuHQ&pd_rd_i=B07NJPXRBC&pf_rd_p=9420597b-7dad-4cbd-a28d-7d676ac67378&hsa_cr_id=6169258910101&sb-ci-n=productDescription&sb-ci-v=Sonos%20One%20(Gen%202) packs a punch of sound and allows you to listen to music, check news, set alarms, ask a Googlable questions and more without needing to use your hands at all. Small enough to be kept on your kitchen or bathroom counter, or tuck away into a cupboard or coffee table when not in use. Pairs seamlessly with other Sonos speakers to deliver fully immersive sound in any room.
The One That's Waterproof
Why We Picked It: Waterproof speakers don't have to be cheap and from 5 Below anymore. Now you don't even have to buy a separate speaker if you're looking for waterproof functionality. Perfect for kayaking, the pool, the shower or a bath, this speaker is designed to be portable, durable, drop proof, dustproof and waterproof so that you can set the vibe anywhere you are. The "one touch" music feature makes playing music off your favorite playlist as easy as one touch.
The One That Doesn't Cost A Whole Lot
Why We Picked It: A speaker doesn't have to be an investment you save up for to be a worthy thing to own. This affordable speaker has a lot of great specs that make it worth it. With a surprisingly loud volume capability, you can play your music loudly without worry of distorting the values. Unlike many comparably priced speakers, this option offers a seriously impressive 100 foot bluetooth range, meaning you can keep your phone safe in your bag while you bring the water resistant speaker closer to the pool deck. Has a playtime of up to 14 hours.
The One That Can Connect To Multiple Phones At Once
Why We Picked It: This rechargeable and portable waterproof Bluetooth speaker can connect up to 3 smartphones or tablets so you can conveniently take turns playing off your favorite playlists without having to struggle with repeatedly pairing and unpairing. This amazing little speaker offers up to 20 hours of uninterrupted playtime and can even pair with other JBL Connect enabled speakers to create a truly immersive sound experience.
The One That Can Live in Your Backyard
Why We Picked It: Sometimes you just want something that you can leave outside—or take outside—without fear of it getting damaged. This amazing outdoor speaker is rugged enough to be left outside or travel with you on your next camping, boating, hiking or adventure anywhere. Made to be waterproof and drop-resistant, for $70 this speaker is expected to last you for years to come.