Save 30% on These Proactiv Systems for Amazon Prime Day
Grab a solid acne-fighting routine at a fraction of the cost.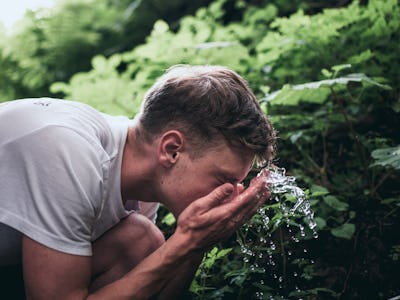 Unsplash / Tadeusz Lakota
If you were alive in the year 2007, you've seen your fair share of Proactiv commercials. There was a point in history where you couldn't look in anyone's shower, medicine cabinet or under their sink without finding at least one third of the Proactiv system tucked away somewhere. For years, Proactiv was the default skincare solution for anyone who had even one blemish.
And then it kind of faded into the background of our TVs. Replaced by other infomercials and more robust acne care options in drug stores and beauty counters, Proactiv experienced a resurgence sometime in late 2018 when they signed Kendall Jenner as a brand ambassador. And now Proactiv is back with a vengenance to treat, cleanse, tone and repair your skin's problem spots—and it's on sale for 30% off for Amazon Prime Day. Below you'll find the best deals on Proactiv products, available on Amazon.
The One You Already Know
What You Need To Know: This 3-step acne treatment hasn't changed much since it first came out, so I am certain that you've already tried it before, but in case you haven't, this system includes all 3 steps of the Proactiv acne fighting routine. First cleanse, then tone and then repair with the moisturizing repairing treatment with benzoyl peroxide for added acne-fighting. Best for oily and combination skin types that are prone to acne. This convenient kit comes in a 30-day starter size so you don't have to fully commit.
The New Kid on the Block
What You Need To Know: Skincare routines have grown a lot in the last 12 years. Now, the importance of gentle cleansing, use of Vitamin A and SPF have been stressed all the more. This introductory system takes all of that into account by including a gentle deep cleansing face wash, a balancing toner, a daily moisturizer with SPF 30 built in and the first FDA-approved over-the-counter retinoid, Adapalene Gel for added acne fighting and anti-aging protection.
The Updated Classic
What You Need To Know: While the 2 other above treatments tend to work better on oily or combination skin, this 3-step acne treatment from Proactiv is designed to hydrate acne-prone skin with the inclusion of the Skin Smoothing Exfoliator to slosh away rough, dry and dead skin, Pore Targeting Treatment for added deep cleaning and the Complexion Perfecting Hydrator for moisture that penetrates your top layer of skin for all over hydration and relief.