5 Ways to Get a Pearly Smile Before the Dentist
Make A Good First Impression With A Healthy Smile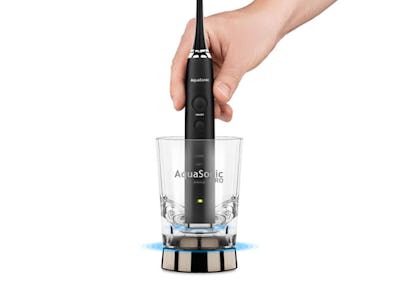 StackCommerce
First impressions are important, and there's no better way to greet someone than with a nice pearly white smile. If you haven't been taking proper care of your teeth, you might not smile so much. It's not just a matter of routine, to guarantee a glowing smile you need the right equipment. Here are 5 great products that can whiten your teeth and give you a good reason to smile.
Aquasonic PRO Toothbrush with 6 ProFlex Brush Heads, Wireless Charging Glass & Case
A brighter smile starts with upgrading your toothbrush. This high-tech Aquasonic toothbrush is centuries more advanced than your old brush. Blast away plaque with this ultrasonic toothbrush that performs 40,000 vibrations per minute. Plus it comes with a travel case, wireless charging glass, and 6 adaptive brush heads so you can keep your teeth glowing. After a huge 45% discount, you can get the Aquasonic PRO Toothbrush for $54.99.
100% Natural Charcoal Teeth Whitening Powder
It might seem counterintuitive, but the results don't lie. Charcoal has been shown to be one of the best ways to whiten your teeth naturally. Whiten, clean and polish your teeth with this 100% natural charcoal powder. It's safe for everyday use and removes coffee, tea, wine & tobacco stains naturally, with no fluoride or harmful chemicals. Right now it's available for 69% off for only $9!
Bianco Smile Pro Activated Charcoal Teeth Whitening Bundle: Whitening Gel & Powder
This is a heavy-duty kit for those who want to lighten their teeth without spending hours at the dentist. This kit can whiten your teeth up to 14 shades lighter with natural activated charcoal and the highest legal-grade whitening gel available on the market. Combining scrubbing, washing, and lightening with the LED mouthpiece, you'll have whiter and healthier teeth without having to make an expensive dentist appointment. This kit normally costs over $100, but after a 63% discount, you can snatch it for only $39.99
NUOVAWHITE True Teeth Whitening System For Two
This is perfect for those who aren't making the journey to whiter teeth alone. You and another person can use this teeth whitening system for two to upgrade your teeth to pearly white smiles. It contains two custom trays, two blue LED accelerator lights, and two sets of FDA-compliant hydrogen peroxide whitening syringes. Good for 20-25 dentist-quality treatments! Plus, right now it's 90% off the normal price of $249. You can grab this two-person whitening system for only $24.
TAO Clean Sonic Toothbrush & Cleaning Station
A toothbrush may clean your mouth, but is your toothbrush itself clean? Here's a toothbrush from the future that comes with a high-tech cleaning station to keep your brush sanitary. Besides looking like a spaceship, the TAO Clean Station uses powerful UV-C rays to eliminate 99.9% of brush bacteria and keeps your brush dry when not in use. It also includes 3 brush heads and 2 modes: Professional & Sensitive, so you can clean according to your needs. Get the TAO Clean Sonic Toothbrush & Cleaning Station for 45% off retail for $69.99.