Buy Refurbished to Get Massive Discounts on These 8 Products
These Deals Are Better Than Brand New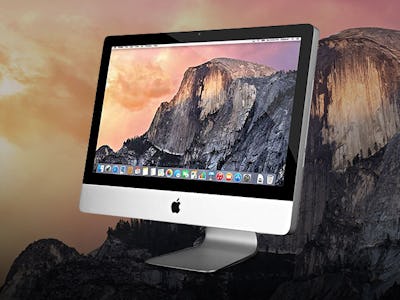 StackCommerce
Savings experts have known it for a long time: the best way to get big deals is by buying refurbished. Not only are the products just as good as brand new, but they're way cheaper. You can happily replace the rush of opening something fresh from the factory with the satisfaction of saving half the normal price or more. After a few weeks of use it'll be hard to tell it was ever not yours anyway, so why not skip the sentimentality and go straight for the deal?
Apple iMac 21.5" Intel i3-2100 Dual Core 3.1GHz 250GB (Certified-Refurbished)
Who said Apple products had to be expensive? You can get this robust all-in-one computer for 68% less than the retail price when you buy it refurbished. Best of all? It's certified to be defect-free by Apple Authorized technicians. Meaning you can get this powerful 21.5" iMac with a 250GB hard drive for only $379. This is the best way to get your hands on a sleek Apple iMac without paying those Apple prices.
Power Air Fryer 10-in-1 Pro Elite Oven Refurbished
Air Frying is an innovative new way to cook. You can make crispy french fries, fried chicken, and even steak with this with a versatile yet compact cooker. Replace your deep fryer with something cleaner, quicker, and healthier. It comes with 10 presets so you can also make pizza, rotisserie chicken, steam veggies and more. Get it refurbished and you'll save 49%.
Samsung Chromebook 11.6" 16GB Refurbished
How would you like a minimalist laptop for a fraction of the retail price? This 11.6" Samsung Chromebook is uniquely designed for web-based browsing, gaming, and work. Optimized for Google Search, Gmail and YouTube, you can do everything you need with this versatile and easy-to-use device. Even video chatting. Plus, since it's refurbished you can get it for a literal fraction of the $599 retail price. Grab one for 83% off at just $99.99.
Samsung Galaxy Tab E 8" 16GB WiFi + AT&T 4G LTE Black Refurbished
You've got to have a tablet in your roster of devices. They're perfect for watching movies in bed, reading at a coffee shop, checking e-mails during a commute, or video chatting from the backyard. The Galaxy Tab E has an 8" HD display and 5,000mAh battery so you can browse in style and comfort. It's 74% less than retail when you get it refurbished for just $124.99.
Shark IF200 Stick Vacuum Factory Refurbished
This is the perfect opportunity to upgrade your vacuum without a heavy price-tag. The Shark IF200 Stick Vacuum is a sleek, modern vacuum that gets under and around anything with high maneuverability and cordless power. Plus it easily converts to a handheld vacuum so you can clean your car without any special equipment. Though it's normally $349, you can get one factory refurbished and save 51%!
Apple iPhone 8 4.7" 256GB GSM Unlocked Gold Certified Refurbished
iPhones are still the king of the mobile phone game, and this gold version looks the part. Besides being sleek and stylish, this model comes unlocked, meaning you own it outright and aren't locked into any contracts. Shoot gorgeous 4K video, use 256GB of storage space, and browse content using Apple's Retina HD display. And it's certified refurbished, so you can trust that it will arrive with all the Apple quality you've come to expect.
Apple iPad Pro 12.9" 32GB WiFi Silver Refurbished
Apple's iPad Pro has changed the tablet game. With its impressive 12.9-inch display and Retina display, there's no better-looking way to watch videos and browse the web. And the battery lasts up to 10 hours on a single charge, meaning you can watch a lot of videos. Not to mention games, music, and thousands of apps to explore. A 32GB Apple iPad Pro should cost $699, but this refurbished model saves you a full 31%.
LectroFan White Noise Machine Certified Refurbished
Sometimes absolutely silence is just too quiet. LectroFan helps soothe the silence with a number of sound-masking options including 10 white noise options, 10 fan sounds, and seven sleep settings. Whether you're being lulled to sleep or just want some background noise while studying or relaxing, LectroFan is the perfect solution. When you get it certified refurbished you save 46% off the retail price, and you can grab one for only $32.