Projectors Are Cooler Than TVs. Here Are a Few We're Excited For
These projectors are worth your time.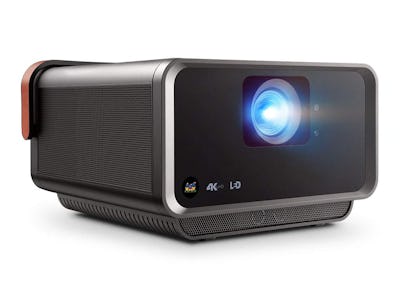 Amazon
The advancements in TV display technology can be dizzying. Only super enthusiasts and geeks will be able to tell you the difference between OLED and LED, and why LED TVs are still LCD TVs. If you're sick of it and want to free yourself from the screen, then a projector may be the solution. They're compact, offer the great features you'd find on a smart TV, and you can find some great deals on them for this upcoming Prime Day.
Here are a few projectors we're excited for:
A quick look at the higher-tier of projectors will confirm one thing for you: They can be as expensive, if not more expensive, than a new smart TV, depending on the features. If you're opting to put your smart TV budget towards a projector instead, the ViewSonic X10-4K is a good place to start.
As you'd expect, the short throw projector allows for playback in 4K. It can push 2400 lumens of brightness, and since it's a projector, you can project a screen up to 120 inches for a true theater experience. The X10-4K is also features Amazon Alexa and Google Assistant, making it smarter than your average projector.
One of the best selling projectors on Amazon is both capable and very cheap, coming in at $97. The QKK Portable LCD Projector is perfectly capable of just about any content you can throw at it. Simply plug in an HDMI cable from the device you want to see and you're off, whether it's a Playstation, computer, or DVD player. That said, only outputs to 1080p max and that really shouldn't be a dealbreaker for most people, considering the price point.
This particular projector comes with its own projection screen, saving you from an additional purchase. It also comes with a 3-year money back guarantee, just in case you aren't 100% satisfied.
Another affordable project comes from Luby, which offers the essentials to get you where you need to go. Easily plug in a memory card, HDMI, USB, or even a VGA cable to project your videos to the included 65-inch screen. It's 2000 lumen brightness is good enough to perform in multiple lighting conditions and the projection display area ranges from 50 inches to 130 inches, giving you plenty of wiggle room.