This Checking Account Has All the Perks and None of the Hazards of a Cash-Back Credit Card
Why do people who pay with credit cards get all the perks?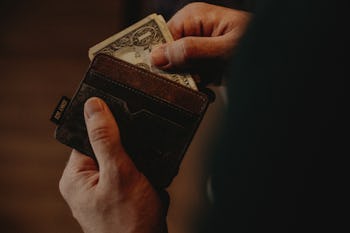 Unsplash / Allef Vinicius
There you are trying to stay out of debt, be responsible, and save money just like your high-school economics teacher told you to. But then these big banks try to tempt you into debt by saying, "If you put it on a credit card, we'll give you 1% back on every purchase!"
It's evil, right?
If you've been trying to ignore that temptation – turning away free money in the process! – Radius Bank is your new best friend.
Even if you – like me – have been cycling purchases through a credit card in order to score the cash-back perks it offers, this rewards checking account from Radius is worth checking out. It has the same cash-back offer with none of the risk of slipping into debt.
Open a checking account. Use your new debit card to buy stuff – even just groceries. And you get 1% of your purchase back in cash. The same rewards credit card users get. Except no credit card.
It takes literally ten minutes to open a new checking account, move money into it, and start using your new Radius Rewards Checking account.
Say you are planning to buy a new bed that costs $1,000. I would put a sizable purchase like that on a credit card to get the cash-back reward. I'm aware, though, this is a slippery slope that easily leads to debt accumulation. (In fact, this has happened to me more than once.) Once I start to keep a balance on that card, any perks I earned as cash back (or miles or whatever) are quickly wiped away by the price of the interest I'm paying on the debt.
If I used a Radius Rewards Checking account, I would get the same $10 back in rewards. But there is none of the risk of accumulating a balance that I'll have to pay interest on.
This is a real reward. Not a trick. And it's better than an interest checking account because it pays me for things I buy not for accumulating a bunch of cash in my checking account. The only thing I did differently to get this reward –is use the debit card I got for my Radius Rewards Checking account.
Also? This bank is just cool. It has a slick app so you can do your banking the way you do everything else – on your phone.
You can deposit checks to your account by snapping a photo with your phone. You can manage your budget from within your bank's app. Transfer money right into your Radius account or to other accounts right from the app. Send money to your friends – and get them to send money to you – from this app. Insure things and negotiate bills, too, all right from the app.
Radius is also super reasonable about using ATM machines.
You probably spent a stupid amount of time scoping out what ATMs in your daily path charge fees and how much those fees are. Maybe you get cash at the grocery store to avoid those fees. That's time you'll never get back. But you don't have to worry about any of that when you use your Radius Rewards Checking account. Radius doesn't charge fees to use an out-of-network ATM. And if ever a bank's ATM charges a fee, Radius will refund it. The average cost of stopping at an ATM is a usurious $4.68 so fees add up very quickly. Are two ATM stops really worth the same as a nice lunch?
You don't have to go anywhere to switch to Radius Bank. Just go to this link, open a new account, move some money in there, and start banking online instead of whatever you currently do.