Why You Might Be Overpaying for Renters or Home Insurance
Lemonade is reinventing insurance by giving you custom, affordable deals from your phone.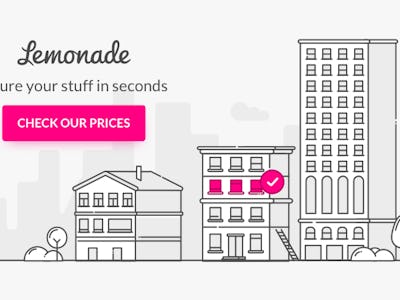 Lemonade 
We've all been there: you've finally landed a new apartment or home, and you're ready to sit back, relax, and spend a few hundred at Ikea. Unfortunately, signing up for renters or home insurance is one of the most important parts of relocating, and the process is painstakingly frustrating. To start, the average homeowners' premium went up in 2014 and again in 2015, and those numbers show no signs of slowing down.
Luckily, there's a company working to make homeowners' and renters' insurance affordable and accessible. Lemonade is disrupting the traditional market with custom plans for a fraction of the cost of typical insurance bundles.
For one thing, Lemonade's base price for renters' insurance is up to 68% less than the average cost of insurance from large competitors. If you want to add Extra Coverage for valuable items like jewelry or electronics, you can do it with a few taps on your smartphone through Lemonade's Live Policy. Your policy will update in seconds, and you'll never pay for coverage you don't need.
Lemonade's homeowners' policies offer similar advantages. You decide how much coverage you need, then pay for a base price. This will cover things like damages to your home, the personal property inside your home and medical fees for people who get accidentally injured on your property. You can then add extra coverage with a few taps of the app. You'll only pay for what you need instead of forking over cash for a policy that covers unnecessary items.
Your new home deserves protection, and you can get it (and change it) in seconds with Lemonade's smartphone app. Policies for renters start at just $5, so it's definitely worth getting a quote today.