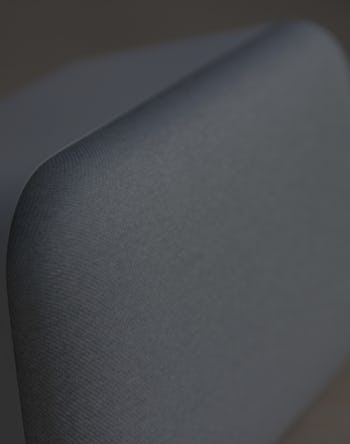 Innovation
Google Home Max: After Using It for a Week, I Can Hear the Future
We think it's the best smart speaker on the market. Do you need it?
Inverse
The Google Home Max is big, very loud, and the ultimate in minimalist Hi-Fi design.
So, yeah, that statement contradicts just about everything you've heard about the voice-activated, premium-price, smart speaker. While one critic has described it as "bulky," I'm happy to argue that thanks to the thoughtful design, the speaker blends in nicely with my living room, as if it were camouflaged.
There are very good, problematic questions around who is listening to your "OK Google" queries and why, as a new report on audio leaked by employees has forced Google to defend itself.
There are also questions surrounding the price of the Google Home Max. (It was $400 when it debuted in September 2017; now it's on sale for $250 in the Google Store — still not cheap.) You might wonder if its wise to spend that much money on a smart speaker tied to one company's service, even if that service — Google Assistant — is getting smarter every day. But the Google Home Max sets out to do only a few things, and it does them fantastically, if you can come to terms with the reality that people might be listening to you to improve the service.
Here's what I learned in my week with what I'll call "Max" after Google sent over the smart speaker for me to test out.
Day 1: "Tell Me Sweet Little Lies"
First impressions: This thing is heavy for its size. At 11.7 pounds, you'll want to avoid dropping this if you can.
My apartment has an open-plan kitchen-lounge area, and I situated Max in the middle next to the dining table and projector. The first thing I did, naturally, was put on some classic dinner party music. "Okay Google, play Fleetwood Mac."
As you may expect, the sound is much richer and deeper than the Google Home Mini. Vocals are sharp, instruments feel balanced, and I can pick out layers from across the room at low volume. It's crystal clear and puts my old iPod dock to shame.
I put it through its paces with some Nine Inch Nails, and I'm equally satisfied with the results. Spotify integration is great: I can ask it to play some '70s music, and it will call up a relevant playlist. I ask it to play my Discover Weekly, and for some reason it starts playing Sophie Ellis-Bextor. Sometimes algorithms can reveal a little bit too much about our taste.
Day 2: Chernobyl
It's the evening. I fire up Chernobyl onto the projector. The sound travels through the rear 3.5mm jack fantastically, and it's surprising how few smart speakers offer this feature. As I watch Paul Ritter barking orders around the reactor (while trying to ignore the Friday Night Dinner comparisons in my head), I'm impressed by the speaker's clarity. Dialogue is crisp and understandable.
One of my favorite things about the Google Home Max is that it switches sources seamlessly. That sounds like a small benefit, but it's a far more user-friendly product than a byzantine sound bar that requires some sort of secret handshake to make the sound work.
My previous speaker, an old and rather large iPod dock, switches sources by holding the play button for two seconds. A shorter press is play and a longer press puts it to sleep. The Google Home Max, in this light, is a godsend.
Day 3: Is This Love?
The Google Home Max is the purest expression of a Hi-Fi system. The concept is sublime, and I feel this is sometimes lost in technology coverage.
It's a single, seamless, white curved box. A fabric mesh manages to blend with the plastic rear, making it seem like one. A power cable on the rear continues this seam out to the socket.
I can stand in front of this white box, speak the name of practically any song in the world, and listen to it almost instantly. There's no buttons, no dials, no fiddling with discs or records. Unlike the Amazon Alexa, the listening lights are also hidden behind the fabric mesh. I can run my finger along the long side to turn the volume up or down, but I don't even need to do that.
A lot of reviews focus on size, performance, specs, connectivity with Internet of Things gadgets — which are important factors! But there's something to be said for the minimalist beauty of the Google Home Max, which is a better-looking device in your home than an Amazon Echo or Sonos One.
"There's something to be said for the minimalist beauty of the Google Home Max, which is a better looking device in your home than an Amazon Echo or Sonos One.
Day 4: OK, It's Better Than a Regular Remote Control
Today, we used it to watch Snowpiercer. The dialogue came through brilliantly, and being able to control the volume from my phone was a nice little bonus. If anything, it's better than a regular remote, as I'm more likely to have my phone in hand.
Day 5: What if Google Axes It?
One issue has been kind of niggling at me: What if Google, on a whim, cut off support for the Home Max? The website Killed by Google counts 171 terminated projects, including Hangouts and Inbox by Gmail.
To put this to the test, I switched off the wifi to see what it could still do.
"Ok Googl—"
"I can't connect to the wifi network! You may want to check the connection settings in the Google Home app."
No luck. It seems the speaker does, however, play the input through the 3.5mm jack even without wifi. Bluetooth basically doesn't work, as you need to enter the Google Home app, connect it to the same network, and then visit its settings to enter pairing mode.
It seems like a small concern, but Google has inexplicably axed other products and services before, and I'm not convinced it wouldn't try to do the same thing again. It recently discontinued the Chromecast Audio, a small, circular device with audio outputs that hang around the back of a Hi-Fi to offer wifi-powered sound. The popular device got rave reviews, and there's no clear replacement in sight.
That brings me to another point: Is the Google Home Max better than a non-smart Hi-Fi system paired with a wireless dongle? (Here's Marques Brownlee explaining how you can do it.) A pair of good quality speakers can be had for less money.
You'd get better stereo sound separation, more connections, greater flexibility further down the line, and you're not at the mercy of a service provider. Add in a Bluetooth dongle for wireless smarts, or even a Chromecast Audio for wifi connectivity. It should be noted that if you buy two Google Home Max speakers, they act as a pair, and you'll achieve stereo sound that way.
Yes, the Home Max is always on and requires no fiddling about with inputs and buttons. But is a big smart speaker like this really that smart of a buy?
Day 6: When the Best Isn't Perfect
A friend came by to try out the Home Max. He peppers it with questions, some of which it struggles to properly understand. It works fine with "how many official ethnic groups are there in China" (56) and "how many uncontacted tribes are there in the world" (more than 100), but ask it to recite the ending speech from Blade Runner, and it gives a muddled response that includes the famous "tears in rain" line but then goes on to explain the director's intentions.
It's hard to really say if this is a negative, though. Google Assistant is the best A.I. assistant I have used, giving smarter answers with more natural language than Siri or Alexa. It's an industry-wide problem that will hopefully improve as time goes on.
Day 7: I Look Out Toward an "All-in-One" Future
The Google Home Max is a fantastic piece of kit. It sounds excellent, it's powered by the super-smart Google Assistant, and it even has a 3.5mm jack for plugging in older devices.
My biggest concern is the age-old question of whether integrating everything is a good idea. I look at my giant old iPod dock, with a 30-pin adaptor that nobody uses, and wonder if it really benefits from sporting a defunct connector. Services and plugs come and go. While going the integrated, all-in-one route looks cool and works in a more straightforward way, will you need to replace your speakers if something better than Google Assistant ever comes along? Replacing a Home Mini would be a lot less painful than the expensive Home Max.
There are no clear answers here. Integration has its benefits, and the Google Home Max has that in spades. Google has knocked it out of the park with a product that looks, sounds, and works great. Just make sure you consider your options first.
Read more Seven Days stories from Inverse.