These Are the Best Single Cup Coffee Makers
We've got options whether you like pods or grounds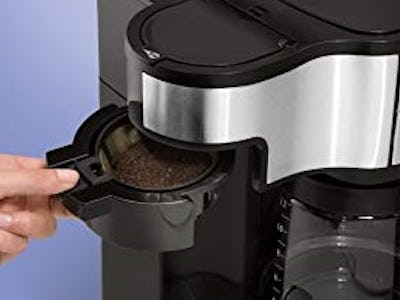 Amazon
Single-serve coffee makers are an excellent solution if you're the only coffee drinker in your home, or if everyone you live with has a vastly different opinion of what constitutes a good cup of coffee. Just pop in a pod and brew the coffee to your liking, and let others fend for themselves.
In the week leading up to Prime Day, we found deals on several coffee makers, so there may be more to come on Prime Day. Be sure to keep your eye on the sales on July 15 and 16.
The Classic K-Cup
Why We Chose It Keurig is the name most associated with pod coffee makers, and this coffeemaker is compatible with the Keurig Classic reusable coffee filter. The water reservoir holds 48 ounces, so you can brew multiple cups in 6-, 8- or 10-ounce servings. If you want to fill a travel mug, just take the removable drip tray out so you mug fits under the dispenser. The machine is programmable, has an auto-off setting, and it has a descaling mode.
Comes with Travel Mug
Why We Chose It This Black+Decker coffee maker is notable for both its compact design and low price. The coffee maker has a permanent grounds filter and you can use ground coffee or a soft pod, giving you lots of options. The coffeemaker brews directly into the 16-ounce travel mug that comes in the package, and the mug fits in most automobile cup holders. The auto shutoff means you don't have to worry if you run out in the morning without turning the machine off.
Multi-Function Coffee Maker
Why We Chose It The Keurig K-Elite is a serious step up from the classic coffee maker, giving you a choice of five brewing sizes: 4, 6, 8, 10, or 12 ounces at a time. There's also an option for a stronger brew if you like a bold, bracing java. This multi-function machine also has an iced drink mode and it dispenses hot water on demand if you want to make instant oatmeal or soups. With the large, 75-ounce removable reservoir you can fill it once and get plenty of cups before you need a refill. Timer, auto-off setting, and descaling add to the convenience this coffeemaker offers.
For Single-Serve and Full Carafe
Why We Chose It This Hamilton Beach coffee maker gives you the best of both worlds, with the option to make a cup at a time or to brew a whole 12-cup pot. The machine uses regular loose coffee grounds and has both a small water reservoir for single servings and a larger reservoir for carafe brewing. The 24-hour programmable feature allows you to wake up to fresh-brewed coffee and the auto-shutoff means no worrying during the day about whether you left the pot on.