Spend $10 at Whole Foods, Get $10 for Prime Day
Really, the offer is as easy as that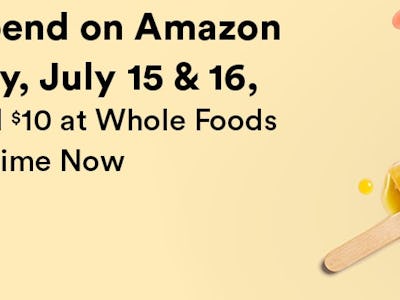 Amazon
Here's an unbeatable deal: spend $10 now on food or other stuff you need from Whole Foods and get $10 to spend on Amazon during Prime Day. You just need to complete a single purchase of at least $10 from Whole Foods Market by the end of July 16.
To get the deal, you must be a Prime member and you must scan your Prime Code, use your linked phone number, or order via Prime Now with delivery or pickup by July 16. The $10 minimum excludes any purchases of alcohol, stamps or gifts cards as well as tips, taxes, and fees.
You'll get a $10 credit that's valid for Prime Day, which is running for two days — July 15 and 16. You can use the credit for purchases on Amazon.com or through the Amazon shopping app, and the credit will be automatically applied when you add qualifying items to your cart. You can't use the credit toward purchases made before July 15, and you can't use the credit for gift cards, alcohol, subscriptions, taxes, or shipping.
If you want to be sure you're getting the discount, look for the "Whole Foods – Prime" label on your order summary when you check out. Before you use it, it'll be shown in the Amazon shopping app, and you should get an email telling you've qualified.
There is a limit of one $10 credit per customer, but if you're in an Amazon Household, each member can get the credit by making a separate qualifying $10 purchase at Whole Foods Markets.
You know you need something from the grocery store, so get it now and earn a $10 Prime Day credit.