What Are the Best Air Purifiers? Try One of These Great Brands
Because the air in your home contains allergens you don't want to breathe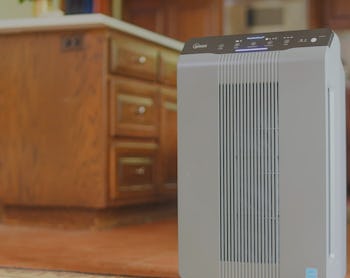 Amazon
Indoor air quality can be a concern at any time of the year. The air in your home probably holds more pollutants and allergens than you think—pollen, pet dander, dust mites, mold spores, and more are floating around unseen. If you have allergies or are sensitive to odors like smoke, now might be a good time to look for a deal on air purifiers.
We're not positive that any air purifiers will be included in Prime Day, but it's likely there will be some because we saw some great deals on air purifiers last year. And Amazon was offering some big discounts on air certain purifiers in the days leading up to Prime Day.
Automatic Sleep Mode
Why We Chose It The Winix uses three-stage air purification to truly clean the air. The air goes through an Advanced Odor Control carbon filter to remove odors and catch airborne particles, and then through a true HEPA filter that captures allergens like pollen and pet dander as small as 0.3 microns. The unit also incorporates PlasmaWave Technology to neutralize odors, vapors and other pollutants. This model has four fan speeds, a sleep mode that automatically kicks in based on the amount of light in the room, and a filter replacement indicator.
White Noise
Why We Chose It In addition to a True HEPA filter, the Germ Guardian uses UV-C light to kill germs. There's also a pre-filter which traps dust and other large particles, prolonging the life of the expensive HEPA filter, plus a charcoal filter to eliminate odors. You can choose from three fan speeds, and the lowest speed also functions as a white noise generator to help you get a restful night's sleep. This air purifier is Energy Star certified and complies with guidelines from the California Air Resources Board.
Large Coverage Area
Why We Chose It The Medify air purifier is equipped with medical grade H13 filters, which are rated as even better than True HEPA filters at removing particles from the air. The H13 captures 99.97 percent of particles. With this machine's capacity, you could purify the air for an entire large apartment or one floor of a house. The Medify has a built-in particle sensor and has an indicator that uses colors to signify air quality. There's an 8-hour timer, and you can choose from four fan speeds and a night mode.
Ozone Free
Why We Chose It Levoit air purifiers are 100 percent ozone free, so people with asthma don't have to worry about ozone being added to their air. This Levoit has a three-stage filtration system, with a pre-filter, True HEPA filter, and activated carbon filter to remove particles and odor from the air in a room up to 360 square feet. This model also features a smart filter that can accurately calculate the real life of the filter – because you don't want to replace a HEPA filter when there's still life to it. The Levoit also runs very quietly, at just 27 dB, and you can set the timer for up to 12 hours.