Amazon Wants Us to Deep-Fry Our Foods Healthily on Prime Day, and We Are Willing to Oblige
Add some crunch to your plate with this new air fryer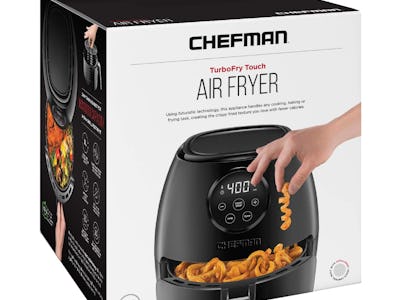 Amazon
One of the Prime Day launches Amazon is featuring is going to have you hungering for yummy, crunchy fried food.
What sets the Chefman TurboFry air fryer apart from other air fryers is the space-saving design. The fryer has a "flat basket" that holds up to 40 percent more than traditional air fryers without adding bulk to the appliance. The space-saving model holds up to 3.5 liters or 3.6 quarts. That's plenty of French fries for a crowd.
Air fryers have become popular with the promise of "healthy fried food," and the TurboFry allows you to cook food to the perfect crispness with 80 percent less oil than traditional frying. Use it for potatoes and other veggies, frozen foods, leftovers, and really any food you want to cook and crisp at the same time.
You're not adding oil to your food, so there's no oily taste or greasy feel, just the natural flavor of the food.
The TurboFry operates at from 200 to 400 degrees F, so you can cook a variety of foods. With digital temperature control and a 60-minute integrated timer, you don't have to worry about overcooking. When the time that you set is up, the fryer automatically turns itself off.
Even clean-up is easy because you can put the fry basket in your dishwasher.
Guiltless fries with easy clean-up. Sounds like a winner to us.