Durable Lightning Cables Are a Must-Have for Apple Users
Upgrade Your Cables With Ultra-Tough Braided Nylon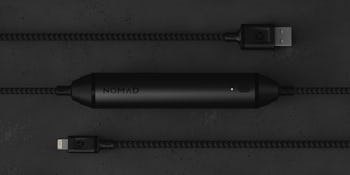 StackCommerce
The Details:
Why You Want It:
Cables are always getting nudged, tripped over, stepped on, and tangled up. With routine use, it's easy to damage your cables beyond repair. You can always buy another Lightning cable, but odds are it'll break right when you need it. So get an Apple MFi-Certified Lightning cable from Nomad and stop worrying about being delicate with your cables.
Nomad uses 500D nylon woven in a ballistic weave pattern, a huge upgrade over the regular cables. The 1.5-meter long version includes a built-in high capacity 2,800mAh portable battery that will fully charge your iPhone.
The Deal:
The 1.5 Meter Nomad Lightning Cable with built-in portable battery retails for $49.95, but you can get it for 59% off at just $19.99.
On a budget? The 0.3-meter Nomad Lighting Cable usually costs $24.95, but in the Inverse Shop, it's marked down 55% to $10.99.