Commuters Will Love These Long-Lasting Wireless Earbuds
Get Up And Go And Keep Listening All Night Long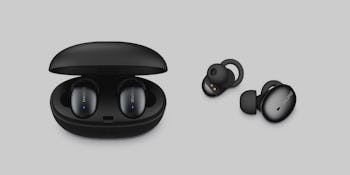 StackCommerce
The Details:
Wireless Bluetooth earbuds
6.5 hours of continuous play/talk time
Includes charging case for up to 24 hours of battery life
Why You Want It:
Those big over-the-ears cans and the wires headphones might be fine for at-home listening, but they're impractical for an on-the-go lifestyle. Nourish your urge to wander with these compact Bluetooth earbuds. They're wireless and unobtrusive, allowing you to listen to music and podcasts with sleek discretion. Also included in a stylish carrying case that recharges your headphones, perfect if those who want to listen longer don't know when they're going back home.
The Deal:
1More Stylish True Wireless In-Ear Headphones retail for $119.99, but you can get them 16% off for a sale price of $99.99.